Let me tell you about my new best friend, who accompanies me everywhere I go, at times whispering soft words into my ear, other times rocking out and making me dance. This companion commiserates with me when I feel down, helps me learn new things, and is always there for me.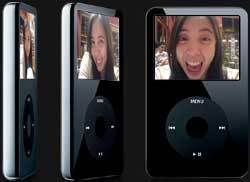 I'd like to introduce Prissy, my new iPod video. Ü Sure, she may be heftier than Kermit, my previous iPod (shuffle), but she also packs way more. I've currently loaded more than a thousand songs, about 20 videos, and about 300 photos — and I've got 50 gigabytes left on her. (Kermit has been adopted by my sister, by the way.) I'm currently paying my parents about P1,750 a month for 12 months, since they helped me get the iPod through a 0% interest plan on their credit card.
I wasn't originally going to get one until a few months down the road, but now I'm glad I have it. It's one of the little things that make my life easier. Now that I'm a BodyBalance instructor, I have to learn new choreography every three months (we've just started another cycle, but more on that in a later post) as well as refresh my brain with previous choreography. Having the video function means I can watch my instructional videos wherever I am and whenever I need to. Also, I don't need to bring my audio CDs anymore when I teach a class (although I keep some CDs in the car just in case), so I can just plug Prissy in, create a custom playlist of BodyBalance tracks, then Push Play and Go.
BodyBalance aside, I usually listen to my own favorite music while at the office. I don't know what it is with my officemates, but let's just say they and I don't share the same musical tastes. Also, I hate most radio stations and really can't listen for too long (commercials, overtalking DJs, and some songs playing at least 100,000 times a day), so Prissy and I end up being lost in our own little auditory world. Ü Now excuse me while I go download some full albums. Hahaha. If I like them enough I'll buy the CDs, don't worry, Big Brother RIAA.
Tags: iPod