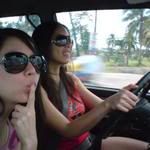 A lot of traveling is done in automobiles. Normally you only drive for an hour or two to reach your destination. (If it's my sister driving, you'll be there in an hour if it usually takes two. Ü) But if you've chosen to drive to some far-flung place because it's cheaper than paying for plane fare, that butt-flattening ride had better be worth your time.
So how would you try to kill time on a trip that takes longer than one movie on your portable DVD player? (Put that Lord of the Rings Extended DVD box set away!)
One obvious answer is sleep. If you're not the driver (Heaven forbid you take a nap on the job!), you'd try to get comfortable, reclining the passenger seat so you can lie back and take some Zzz's. But of course there's only so much sleep you can take on a bumpy ride, and take pity on your driver — he or she is bound to get bored stepping on gas and brake, gas and brake, gas and brake… Soon even your driver will be catching Zzz's, and you wouldn't want that!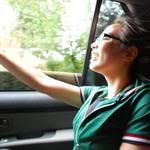 You can play some music. Not all of us are as lucky as Orlando Bloom's character in Elizabethtown because Kirsten Dunst's character recorded a timed road trip guide for him on several CD's, but cars have sound systems for a reason, right? You could try tuning in to your favorite radio station (or the affiliate when you've driven too far to pick up the home station's signal), or bring your own music on CD's or iPods with FM transmitters or tape deck adaptors. What you do with that music is up to you, whether you prefer singing aloud to Kitchie Nadal or sit in reflective silence as you pretend to be serenaded by Richard Poon — or whatever your music preference is. Maybe you'd like to learn a language or have a book read out to you. Audiobooks are another way to while away your time on the road, and some can even be downloaded for free.
The best way to spend time on a long drive, however, is with worthwhile company. Nothing beats catching up with your friends on the latest in their lives, talking about other people, or just being silly during a game of "I Spy." Personally there's nothing I would rather take with me on a long road trip than good friends to share the time with.
How about you? How would you handle a long drive?