I was feeling every bit of the rainy weather when out of the blue I got a text message from my friend Al. "Hey do u have plan [sic] today? We're doing surf lesson in Pasig for Weekend Warriors. U wanna join us?"
Never mind that I had a VTR scheduled that afternoon (it was for support cast anyway). Never mind that I still had a 400-word article to finish for Action & Fitness Magazine (done in one hour, yo!). Never mind that it was rainy (I'd get wet anyway). I jumped on the chance to try out surfing at Club Manila East, which I'd already heard about from my friends.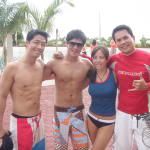 "Weekend Warriors" is an upcoming web show on Flippish.com with Ton Gatmaitan, Chris Tan, Jinno Rufino, and Al Galang. They're a group of buddies in search of the ultimate adrenaline rush and great things to do on a weekend getaway. Naturally, they need guest Girlfriends of the Week to round out the cast. Jinno was knocked out by illness, and I was the only girl they could get to show up that day. Chris said, "If you hadn't shown up, we'd have canceled the shoot. It would have been too much of a sausage-fest." Yeah, but the problem with having a girl on an extreme sports show is she just might show you up.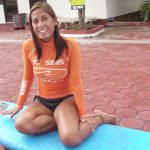 The other girl was Lorraine Lapus, one of the coaches from the Philippine Surfing Academy, which runs the lessons at CME. She explained the parts of a board, basic safety procedures, and how to get up on the board. I'd already been through some instruction as part of the surfing lesson I had during a LAC trip to Zambales, but it was still great getting a refresher. After all, my first and last surf session was back then in 2007.
The boys were all avid wakeboarders so they already knew which was their back foot, but it came as a surprise to me that Al was surfing for the first time. "There was a lot of surfing back where I grew up," he admitted (he grew up in LA), but he'd never had interest in anything else aside from balls. The bouncy kind. The sporty kind. Aw heck, sorry Al…
We took our boards into the pool and waited for the wave machine, which started sending out 3- to 5-foot swells. As soon as my turn came up, my muscles went and did their thing. What do you know? Surfing is just like riding a bicycle. You never forget how.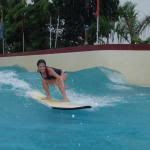 Let's get it up, boys!
Soon enough, the boys were riding their own waves, with Chris getting the longest rides to shore. Ton had some trouble with his board, but got the money shot. And Al? I bet he regretted not starting younger.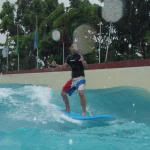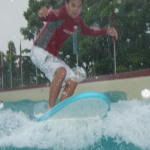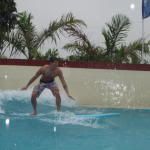 After about two hours of this (mostly in the middle of a torrential downpour that had water drops bouncing from the waves into our eyes), we were wet, dog-tired, but happy. And I missed my VTR. But I wouldn't have spent my afternoon any other way.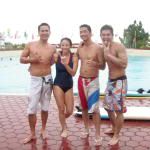 Hang loose!