One of the reasons I loved going to Baguio a few years ago were the ukay-ukay (thrift) stores located right in the heart of the city. The first time I went to one, I was able to find a maxi skirt for myself and some cute tops for my sister. Since then, I've always walked away with something cute — and cheap. Unfortunately, the last time I was there, two years ago, prices had risen and the quality of selections had fallen. I was under the impression that Baguio was the only place I could go thrifting.
Then I met some people who showed me that thrifting is alive and well right here in Manila! In fact, my friends Liz and Lauren run The Ukay Manila Store showcasing their thrift store finds, which are up for sale. So if my friends can find clothes good enough to re-sell, I shouldn't have a hard time finding some for myself, either. Ü
In the past few months, I've been honing my shopping radar, refining my fashion sense, and pretty much listening more to the shopaholic within, so last Friday I made a trip to a building called Lolo Oboy's at Anonas LRT-2 Station. It's four floors' worth of thrift stores, which meant four floors' worth of fun for me.
Going thrifting is like panning for gold. You will be sifting through a lot of mud, rocks, and other nasty things, but if you know what you're looking for, you're bound to find something that's fashionable and wearable (after some laundering, of course).
So, what did I find? Plenty! My budget was 900 pesos. In a department store, that amount will probably get you one top (or maybe two, if you're savvy) and one bottom. At the thrift shop, that amount got me…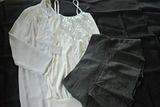 polo cover-up (P10), spaghetti top (P35), twill skirt (P35)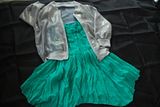 metallic cropped jacket (P150), tube top (P35)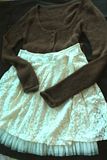 knit sweater (P35), lace and tulle skirt (P35)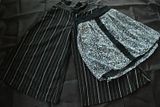 pinstripe culottes (P45), Target spotted button-down skirt (P35)

cropped blazer (P150), denim skirt (P150)
By the time I exited the building, I was high from shopping — and inhaling dust particles. I only stopped going through the racks for more because I only had two hands to carry my purchases, and I didn't want to go over-budget.
Next week I will be thrifting with some friends — in Cubao this time. I wonder what I'll find? Ü
Tags: Thrift Store Finds, Ukay, Shopping