My camera was stolen a few weeks ago, and while my old Casio Exilim EX-S1 was adequate when I needed simple snaps, it just wasn't excellent. I was confident we'd be able to buy another camera; I just didn't know how soon.
The other day, my parents and I were supposed to watch Avatar in IMAX at SM North EDSA. Unfortunately, when we got there all the tickets had been sold out, except for the last show which was far too late for us to attend. So, we went to the Annex building to have dinner instead and bum around. The Annex is home to computer and electronics shops, so we found ourselves browsing for new cameras.
I've been looking at product reviews online for waterproof shock-proof cameras, and people have been recommending the Canon PowerShot D10 as the best in its class of point-and-shoot cameras. I didn't want to get another Olympus (like my previous camera) because of its annoyingly slow capture time and noisy photos at high ISOs (meaning anything above 200). Unfortunately, the PS-D10 is also the most expensive in its class, and all of the stores we went into had priced it at almost p27,000.
I was resigned to getting an IXUS instead because of good reviews and sub-P20,000 price tag. Never mind if it wasn't waterproof and shock-proof; I'd simply have to be more careful, and we'd just find a waterproof case.
Then we wandered into a store with a sign in the window that announced a Citibank promo. If my mom used her credit card, we could buy a PS-D10 at P18,900 in a Paylite scheme (0% interest for 14 months). Of course, we walked out of there with this baby: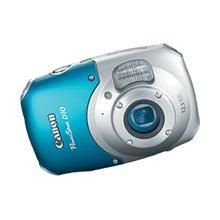 I was able to take the camera during our family trip to Hamilo Coast yesterday, and it performed beautifully above and in the water. Here's my favorite shot:
If we hadn't planned on watching IMAX at North EDSA… If we hadn't been unable to watch… If we hadn't gone to Annex for dinner… If we hadn't gone window-shopping… So many factors had to be in place for us to have gotten wind of the Citibank promo on the camera, too many factors to be coincidence. I am just so grateful that everything I'd lost was replaced with better things, all within a month! God is good. Ü
Tag: Camera, Canon Powershot D10