I couldn't bear having my running year end on a sour note, so after taking a weekend off running, I was back on the pavement for the Philstar.com Christmas Celebrity Run. (It kind of helped that one of my friends registered for me.)
Distance 10K: check. A hilly winding course: check. Plus, the route went through McKinley Hill, which kicked my butt the first time I ran it during the Urbanite Run. I began calling it my redemption race.
Emotionally, I was nothing short of grateful to God for the race day ahead. I already knew that whatever I had lost, God would give even more. Whatever happened, I was determined to kick those thieves' asses the only way I knew how: to return to running and prove what they did to me had not broken my spirit.
Some vestige of paranoia stayed with me, of course. I packed only a change of clothes and a water bottle in my gym bag. Money and my license wrapped in plastic went into the back pocket of my Race for Life singlet, and I slipped my cellphone into my running tights' back pocket. The car key was in the music pocket strapped to my arm. All this just to ensure my peace of mind.
Since it was a media-sponsored run, I knew there was a slim chance race results would be published. Instead, I strapped on my good old Casio digital watch and started the stopwatch at the gun start (which was late). I started in the middle of the pack with my friend from the Ateneo run, adopting his strategy of slowly overtaking runners in front of us as they slowed down from their sprinting start. A more steady pace would keep my legs fresh for the final kick.
Water supply was plentiful, and I watched the first three kilometers whiz by. Then we turned into McKinley Hill, and I even overtook a woman and man from the David's Salon triathlon team. On this winding route with three U-turns, I put into practice something I'd only read about: running the tangents. Instead of plodding along with my eyes on the ground, I scanned what was ahead so I could run as straight a line as possible, eliminating extra mileage and shaving off seconds from my time.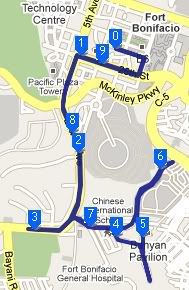 based on Jaeb's GPS map
As we got back onto 5th Avenue on the 7th kilometer, I checked my stopwatch. Only twenty-five minutes had elapsed?! I began mentally ticking off the kilometer markers I'd passed, and I was confident I'd collected all the checkpoint bracelets being handed out.
And then I realized: McKinley Hill wasn't as hellish as I'd expected. No way?
The David's Salon tri-team overtook me at Kilometer 9, but I kept hard on their heels. Breathing steady: check. Pain-free: check. I kept right behind the tri-team as we approached the last stretch of road before the finish. Cameras snapped. I saw the timer at the finish line read 48+ minutes. As the man from the tri-team sprinted away for his own sub-49 finish, I accelerated to keep an older man from finishing between me and the woman triathlete. I crossed the line and tore off my tag to give it to the race marshal. Then I clicked off my stopwatch. 48:33.
Given that it took me 31 seconds from the gun start to cross the start, and a few more seconds after I crossed the finish line to turn off my stopwatch, my conservative estimate of the time it took me to run the course was 48 minutes, only one minute behind Piolo P's heartbreak 47.
Wait wait wait. Forty-eight minutes? *faints* I'd been trying to get below 51 minutes since I ran the Globe run, and the flat course during the PIM only helped me bring it down to 51:15. And then all of a sudden to breach the 50-minute mark? I'd have done cartwheels if people didn't all have their cameras out to take photos with the celebrities at the finish line. Eep!
On GPS trackers, the distance was only 9.8 kilometers. However, since GPS doesn't measure topographical changes, that's within its margin of error. Even if the distance were that short, I was running 4:54 minutes per kilometer and would still have finished a 10-kilometer distance in 49 minutes.
I returned to my car, half-expecting my bag to have disappeared again. I breathed a sigh of relief when I saw my doors were still securely locked and my bag was still stashed in the back, in the same position I'd left it.
McKinley no longer Hell: check! New PR: check! No thievery: Check! Elation flooded me, and the only thing I could do was lift up a prayer of thanks for a beautiful end to this year's running. My redemption race was a runaway success. Ü
Tags: Running, Race, Philstar Celebrity Run