Prepare yourself for Christmas lamon by keeping fit with Action&Fitness; Magazine's December issue. It's also colored purple, this year's holiday color! Ü Check out Melissa Ricks on the cover.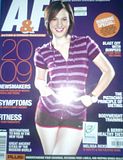 Action&Fitness; December issue
Here's your sneak peek at my five articles published this month:
Running Afoul (p. 68) Habits that ruin your runs. (with thanks to Takbo.ph forum members)
Tearing Up the Trails (p. 76) Take bicycling a notch higher by riding up and down muddy and rocky slopes. (I wrote about this for Trippin', my travel and adventure blog.)
Breaking Free of Machines (p. 78) An introduction to bodyweight training.
WORKOUT: Blast Off with Burpees (p. 80) It's not what you think.
TESTED: Speedo UV Sensor (p. 92) This is not a watch for contact sports, but it's a great watch for the outdoors.
The December issue is also A&F;'s Running Special, so if you're thinking of lacing up to burn off the holiday calories, this is a must-read!
Tags: Action & Fitness Magazine, Melissa Ricks, Running, Bodyweight Training