After the brouhaha at the Big Blue Run where my bag was stolen (and later recovered, minus some items), someone from Ateneo contacted me and offered to replace the Havaianas flipflops that had been taken. I took her up on that offer, but since Ateneo closes for the Christmas and New Year holidays, I had to wait.
Yesterday, I picked up my replacement pair from the Blue Eagle Gym. They're not the model I lost… They're so much better! These Havaianas are from the current season line-up, so I'm glad they didn't buy something from the bargain bin. I also received another BBR finisher shirt, even if I didn't ask for one.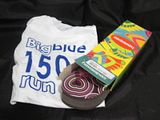 above and beyond a replacement
In a few weeks' time I'll also receive a new singlet to replace the one that was taken from my bag. Thank you to the Ateneo University Athletics Office. Now if you guys can release the results of the Big Blue Run, it'd be perfect!
When I lost my bag, I knew that in one way or another God would give me everything back, or something much better. Ü
UPDATE (01/18/2010): I was rummaging through my empty paper bags today and found a Silverworks Big Blue Run pendant in the bag that had contained the Havaianas. I hadn't been able to grab one of these limited-edition pendants after the Big Blue Run because I thought they'd run out of them. It was really a nice surprise after I thought it had all come to a close. Ü
UPDATE (01/20/2010): Isn't this race the gift that keeps on giving? The results were released, and even though the women's field was small, here's how I fared:
Tags: Big Blue Run