I wrote OneSport Magazine's cover article about Stoked, Inc. riders Lorraine Lapus, Carla Sebastian, and Samantha Bermudez.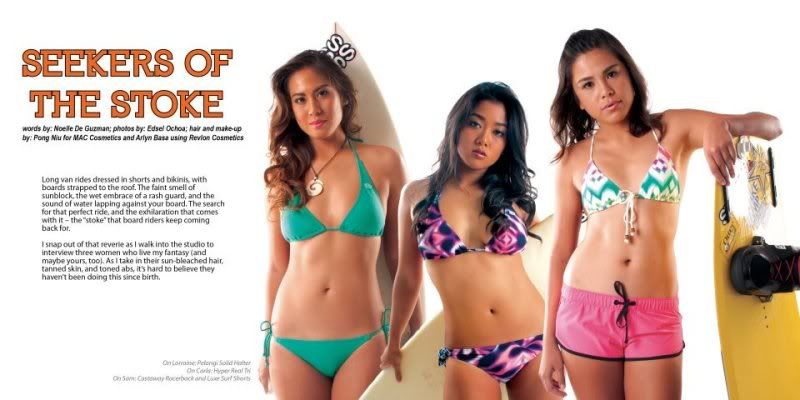 Seekers of the Stoke
By Noelle De Guzman
Long van rides dressed in shorts and bikinis, with boards strapped to the roof. The faint smell of sunblock, the wet embrace of a rash guard, and the sound of water lapping against your board. The search for that perfect ride, and the exhilaration that comes with it – the "stoke" that board riders keep coming back for.
I snap out of that reverie as I walk into the studio to interview three women who live my fantasy (and maybe yours, too). As I take in their sun-bleached hair, tanned skin, and toned abs, it's hard to believe they haven't been doing this since birth.
Lorraine Lapus, Stoked Inc.'s brand manager for Rip Curl and a poster girl for surfing in the Philippines, used to be an account manager for an advertising firm. On the side, she performed with Planet Zips as a fire dancer. "I could have worked with a surfing brand but my parents wanted me to work in a proper office, so I went into advertising," she reveals. "I got stuck with a baby brand and a bank."
Back then, surfing in the Philippines was limited to little-known spots known only to locals and diehard surfers by word of mouth. Lorraine was initiated into the sport in 2003 by a friend who simply handed her a board and told her not to hit anybody. She learned through long hours observing others, and by her own tenacity.
Eventually Lorraine jumped ship from her advertising job onto a polyurethane funboard to coach with the Philippine Surfing Academy, which holds surf lessons from the Club Manila East wave pools in Taytay, Rizal. She's the first female in the country to receive accreditation as a surf coach from the Academy of Surfing Instructors based in Australia. "That's my longest job," she says. "It's one of those jobs where you don't earn much, but it was really enjoyable and I had my own time so I could do projects on the side." Lorraine might be familiar from her commercials and endorsements for a shampoo brand and a restaurant chain, if you don't know her from her wins at surfing competitions since 2008. At last year's Manila Surfer's Cup, she won first place in shortboard and second place in longboard. Her time with the PSA opened doors for succeeding work as a marketing associate for the province of Camarines Sur, and her present position at Stoked Inc. "From the teaching, going into the retail side of things, it's fun and still not far from what my interests are," Lorraine says. "Weekends are always filled with something, either a shoot, or a comp or an event, or surfing!"
Samantha Bermudez, the wakeboarder among these three, had a similar journey from board room to board. She spent a bit of time as a foreign exchange broker, which she enjoyed because it was easy. All she had to do was sit at a desk, punch buttons, and make calls. Then she got an international job offer. Reminiscing and laughing, she says, "Bigla na lang when I quit na, hindi na lang daw."
Sam had been introduced to wakeboarding by her sister while she was in university and a player on the varsity football team. "Standing up is the hardest, then going around," she admits of her sport. "Me personally that was my hardest. From there once you learn that and get comfortable, tuloy-tuloy na yan. You're confident to try other things." Quitting her job was just like jumping off a kicker, and Sam decided to go huge off it and commit to becoming a professional wakeboarder. In between attending ever more competitions, Sam taught wakeboarding lessons at Lago de Oro in Calatagan, Batangas.
Stoked Inc. took notice. Sam says, "I stood out because I was bold. A lot of the girls were like, 'I don't want to try, it's scary I might get hurt.' I didn't care." As part of the Stoked Inc. team of riders, Sam found the kind of push she needed to learn different tricks. She remarks with a huge grin that when someone attempts a new trick, "I'll try to do it rin." Her biggest professional win thus far is the Ultimate Wake Park Championship held at the Camsur Watersports Complex in 2011, which was the final leg of the World Wake Park Series. The year also marked her first few forays into international competition.
The youngest of the three, Carla Sebastian, is in her third year as an Interior Design student at the University of Sto. Tomas. She dabbled in boardsports by tagging along on her sisters' surfing and wakeboarding trips some years ago, but didn't take it seriously. "In 2008 I went surfing with my sisters again, and then I tried it on my own and I really liked it," she says. "The year I started, they made me join the [Manila Surfers' Association division] beginners and I won my first surfboard then."
Surfing became a constant weekend getaway for her. Any parental barriers to it had been broken down by her sisters. "At first my sisters weren't allowed ever, or every time they'd be allowed there'd have to be a fight. Little by little they started accepting it's what we like to do," Carla reveals. "They think, 'Oh, you're going to charge huge waves and tsunamis.' No, no, some waves just come up to my knees!"
No longer just a tag-along, Carla is now an accomplished surfer. Her most recent accolade is the championship in the 2011 MSA Competition Wahine Longboard Division. Being a Stoked Inc. team rider, she's encouraged to join more competitions. "I like it because I get to surf more," says the girl who once spent two weeks alone in Siargao to learn how to use a shortboard.
Even if boardsports may be their main thing, they make room for supplemental workouts. Lorraine muses, "I do more workouts lately. I run with my boyfriend, I guess I'm a little more conscious on fitness. Dati parang kahit ano you can just eat whatever." Sam uses her workouts to prevent injury. "On the days I don't ride I really try to get fit," she says. "I go to the gym and my therapist. Last year I got injured in four different areas so I really need to get back in shape."
While they may have simply gone with the flow when discovering their respective boardsports, they realize they have a more active part to play than just continuing to search for the perfect ride. They want to "share the stoke" and get more people into surfing and wakeboarding, both nascent sports in the Philippines compared with the rest of Southeast Asia.
Carla is passionate about an interior design career after university, but says surfing has made her that much more driven as a person. "I feel more inspired to achieve after a good weekend of surf," she declares. She also believes surfing is a truly egalitarian sport. "Everyone mixes up in the surf scene. I'll be friends with people who are 60 or kids who are almost 10 years old, locals, foreigners, everyone's coming together to do the same thing." If her surfing has accomplished anything, she says it's "getting people to go outdoors."
For Sam, 2011 was a banner year; she founded Pinoy Wake Camp, the country's first official wakeboarding camp, with fellow Stoked Inc. rider Carlo dela Torre. "It's open to anyone who wants to learn how to wakeboard," she enthuses. She envisions growing a pool of riders, particularly young kids now, who could represent the country eventually at the 2020 Olympics, where cable wakeboarding is shortlisted for a spot. "What I notice from when I started back in 2008, we now get triple the amount of people we used to. Palaging may new face," Sam says. "Maraming may potential."
Lorraine is the first Filipina certified surf coach, but admits that there are many in the surfing scene who want to be certified, but aren't. She states, "If we get support from the government, we can certify all the instructors of different places." Her passion is evident when she talks about the current state of surf here, and what needs to be done. On the one hand, local talent are the ones who have access to spots, but lack equipment and maybe the knowledge of how you can develop the sport and make it more viable for tourism. On the other hand, Manila-based surfers are far away from the spots, but with their attention more companies are seeing the potential of the surf industry in the country. "The thing with PSA is they've just brought surfing closer to people," she says of the wave pool-based lessons which act as a gateway to encouraging Manila-based surf tourism to far-flung La Union, Baler, or Siargao.
As this year's summer season for surf and wake heats up, Lorraine, Sam, and Carla will be right there seeking the stoke. Maybe you and I can tag along for the ride.