Back when Mercato Centrale first opened near Bonifacio High Street in 2010 for its Morning Mercato market, I would drop by on Sundays after a race for some food and drink. I was already familiar with the concept of weekend markets where fresh food and produce were offered, since my family and I frequented the one that used to be held at the Lung Center of the Philippines compound on Quezon Avenue. Still, the charm of each weekend market is the variety; they don't all have the same concessionaires, so you could have a completely different food and shopping experience from one market to another.
organic produce fresh off the farm
Today, Morning Mercato re-opened in its original location at the corner of 30th Street and 9th Avenue in BGC. It'll be there on Saturdays and Sundays from 7am to 2pm through November and December. (Midnight Mercato will still be held at the Mercato tent near Turf BGC.)
What I like about Mercato's food is how it's not just regular fare. If a stall is selling burgers, then it's a specialty burger filled with cheese. If it's ice cream, they offer unique flavors you don't find in a grocery creamery.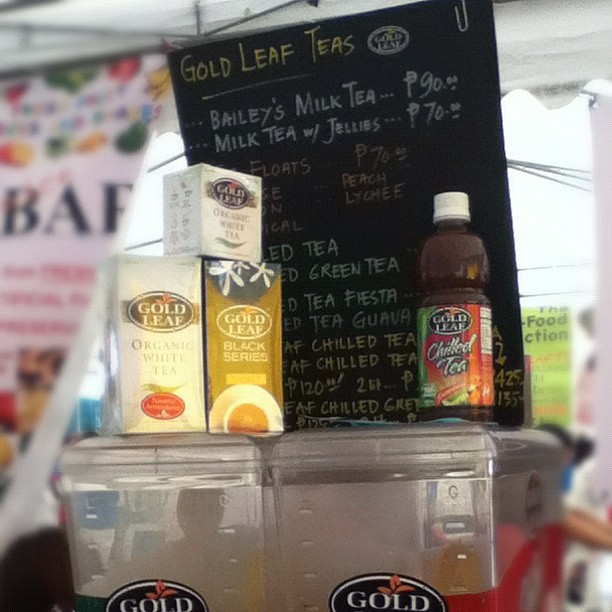 how about some Bailey's in your milk tea?
Today's launch program showcased the Brown Rice campaign organized by Dakila with Oxfam. It aims to bring organic brown "unpolished" rice back into the regular diet of Filipinos. Brown rice is simply rice that hasn't had its bran coating removed through multiple millings (which turn rice into the familiar white grain). Brown rice uses less energy for milling, retains the nutrients contained in the bran, and because it's milled fewer times, there's less wastage of grains (some grains are pulverized through multiple millings). Simply put, locally-grown brown rice is more sustainable and healthier for the Filipino people.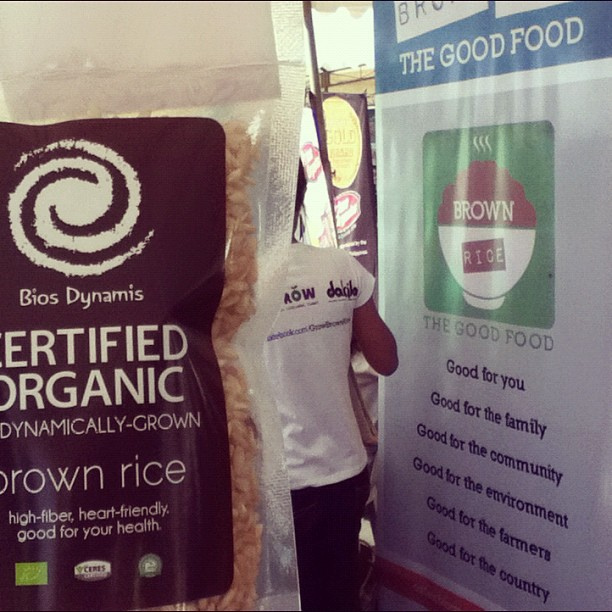 But brown rice must be organically grown to be safe; the bran can retain poisons if the rice is grown with traditional pesticides and chemical fertilizers.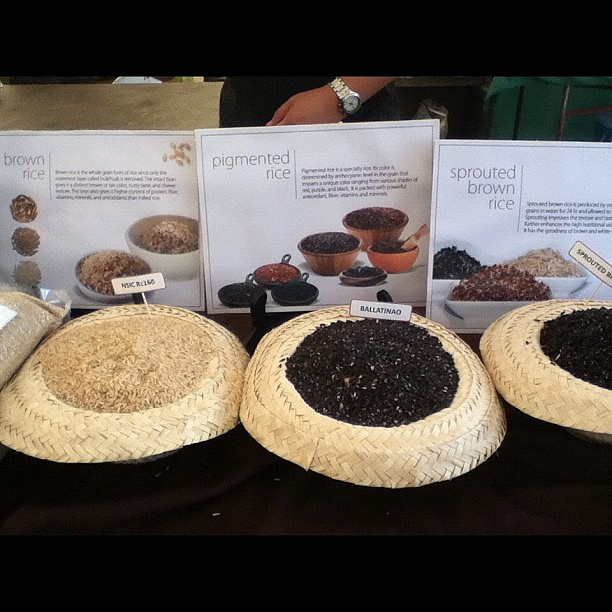 organic brown rice!
I also found some great products sourced from the Gawad Kalinga Enchanted Farm in Bulacan. It's a farm that gives the people from its community a livelihood. I tried the cream cheese, and it was so fresh and flavorful I had to restrain myself from snatching up more of the samples on the plate.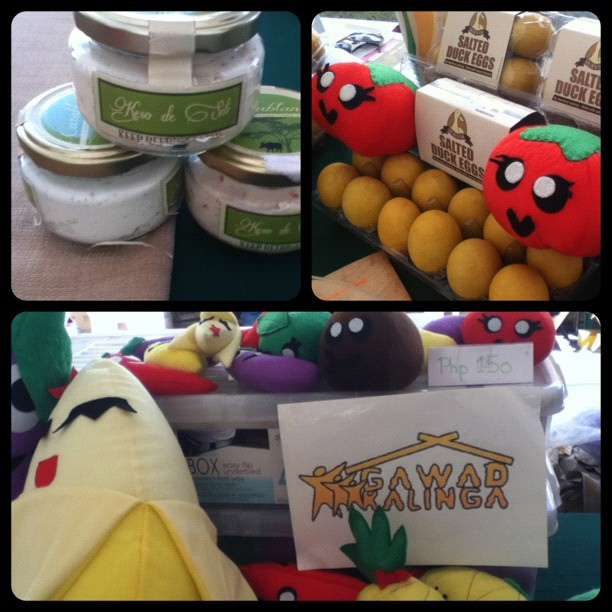 cream cheese, salted duck egg, and cute stuffed fruits and veggies
This booth also carried coffees sourced from all over the Philippines, which would be a great Christmas gift for my dad if he hadn't just been given a bag of Starbucks Christmas blend. :/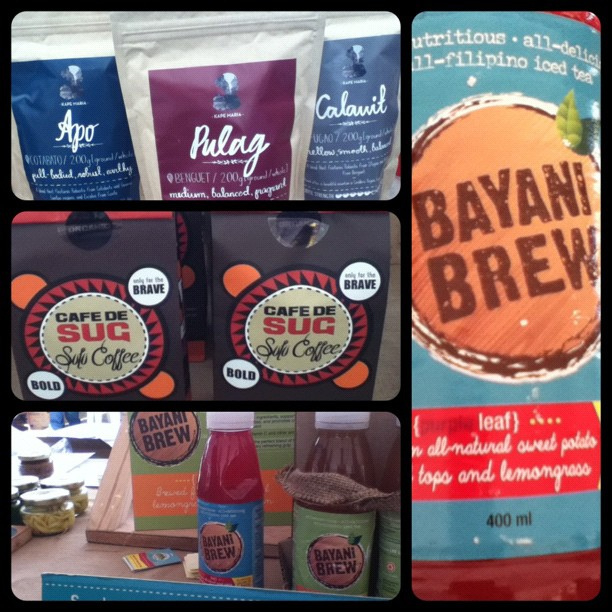 coffee and tea, anyone?
Also, check out "Bayani Brew" in the photo above. It's a bottled tea with two varieties: one is made from lemongrass and pandan, and the other is made from lemongrass and purple sweet potato leaves (CAMOTE TOPS!). The flavors and colors are all-natural, and apparently the Bulakenos have been making such herbal teas for generations. I bought two bottles and am drinking one now as I write this. Yummy!
I also snapped up a Human Nature shampoo/body wash and a Messy Bessy sports spritzer. Human Nature products are mostly made of natural ingredients and no harmful chemicals, which is great for my breakout-prone skin. Messy Bessy is non-toxic, biodegradable, and earth-friendly; I plan to use this sports spritzer to banish sweat smells from my workout shoes and bags.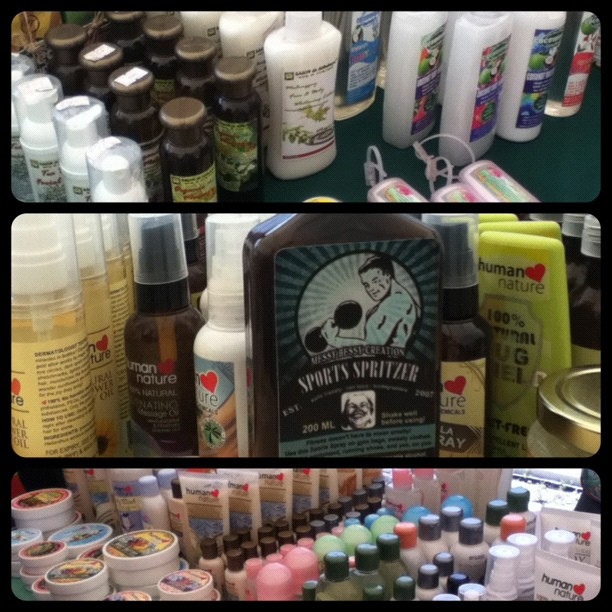 I'll be back for the others, soon. Mwahaha.
I guess what makes Mercato different from other weekend markets I've been to is that it makes you think about what goes into or on your body. It's that availability of choice even among its selected concessionaires that keeps me coming back.