A few months ago I was heading home on a Tiger Airways ticket from Phuket to Manila. However there are no direct flights from Phuket to Manila especially on a Sunday, so I was on the next best thing: a connecting flight through Singapore with an eight-hour layover. My luggage would be checked through, so I wouldn't need to pick it up in Singapore and re-check it on the SIN-MNL flight.
I had actually planned to leave the airport during the layover, because I would arrive at 4:30pm and fly out at 12:55am. This is doable; with a Philippine passport I don't need a transit visa and can enter and leave the airport after going through immigration and security. Additionally, Singapore's MRT system connects directly with the airport and you could very well get all the way into the city to meet up with friends for a nice early dinner and some shopping.
However, I was traveling by myself and my mom, ever protective, requested I stay inside instead. So, what do you do by yourself for eight hours in Changi Airport?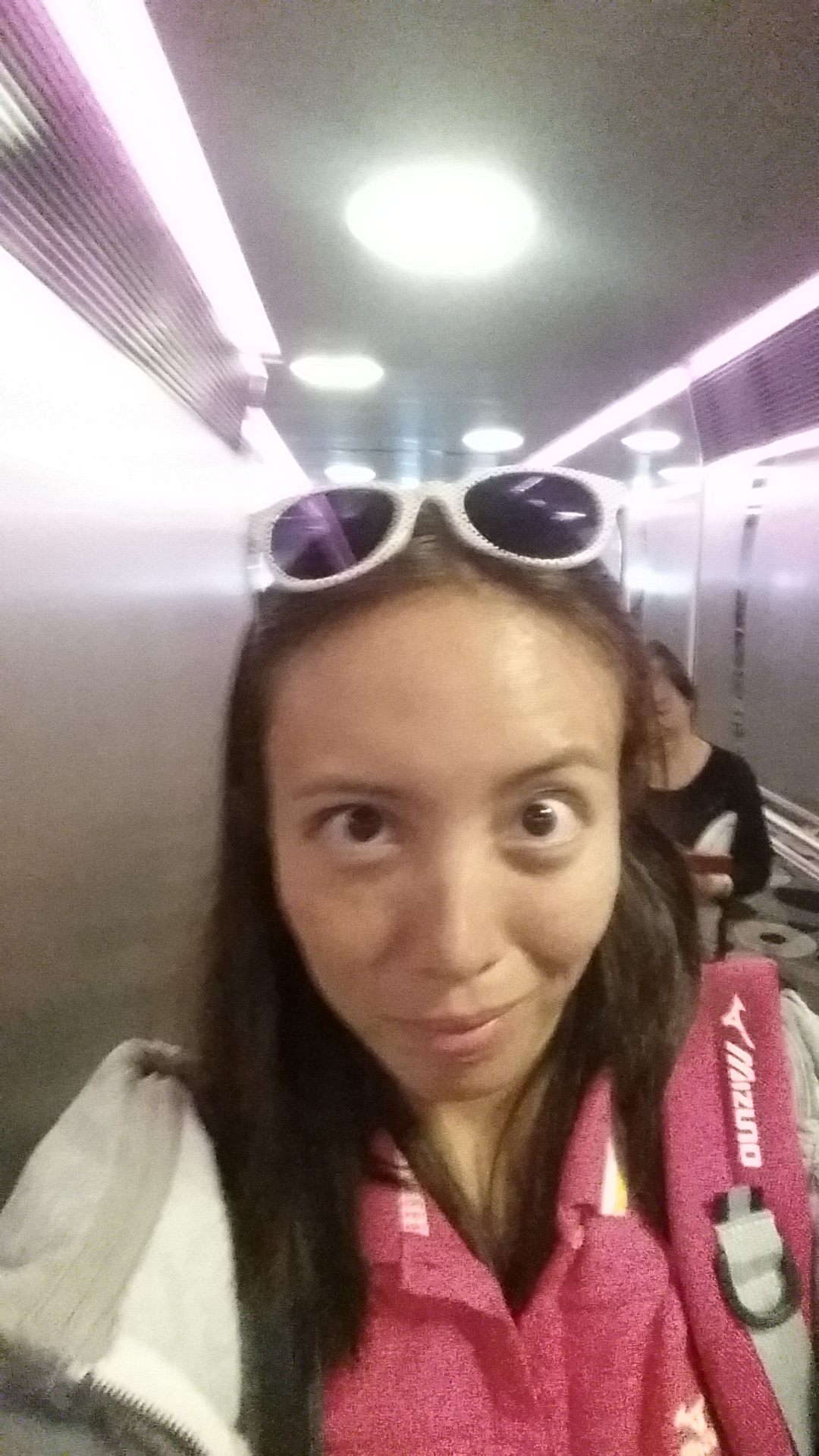 Eat & Drink
My flight had left Phuket shortly after lunch, so after checking in with the transit desk and using the airport's complimentary free WiFi on my laptop to upload a podcast for my other blog, I set off to hunt down some food.
In Terminal 2 there's a food court on the upper floor opposite the Transit Hotel, and after telling myself I was NOT going to have McDonald's (inside joke here), I settled on a Bak Kut Teh from one of the stalls.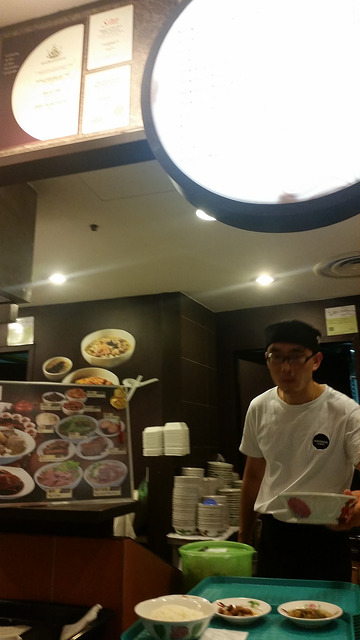 (Truth be told, it wasn't super good, but I was hungry…)
I left the food court vaguely dissatisfied, but at least I was full. After wandering around the other terminals, I returned to Terminal 2 and had a later dinner around 9pm so that all I would need to do on the plane was sleep.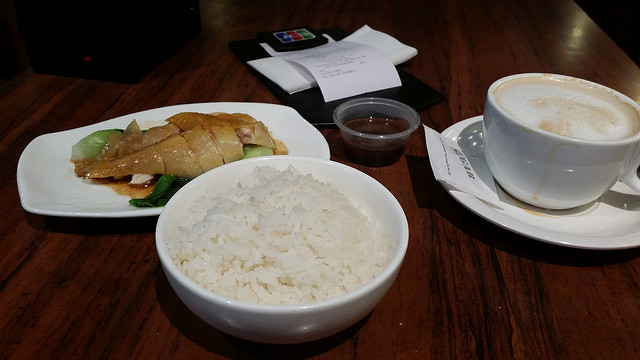 Chicken rice. This one was better.
There are so many other restaurants and food stalls in the other terminals as well, so if you have time and you're not too hungry yet, you can take the Skytrain to check them out.
Ride the Skytrain
6 more hours in Singapore, just staying inside the airport though. 🙂 Think I'll go play on the skytrain 😀

— Noelle De Guzman (@KikayRunner) August 31, 2014
Unlike Manila's non-connected airport terminals, Changi's three terminals are interconnected by the Skytrain, a free automated electric rail system. Train cars arrive every two minutes or so and they make transit between terminals hassle-free.
I took the Skytrain from Terminal 2 to Terminal 3, and then to Terminal 1 to check out the bigger designer shops there. Having only flown in and out of Terminal 2 in the past, it was nice to explore how vast Changi really is.
Play with the Social Tree
Over at Terminal 1 there's an electronic art installation called the Social Tree. You can take a photo at one of the kiosks at the base of the tree, then flick your photo up to share it with the rest of the airport. You can also email it to yourself, and on subsequent visits to the airport you can retrieve it. If you're traveling with a bunch of friends I can see where this can get really fun because you can take over all the large displays at the Tree. Using the Tree by myself, I felt like I was a giant Noelle virus. 😉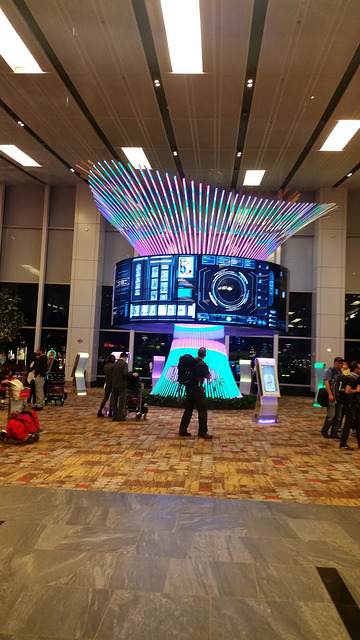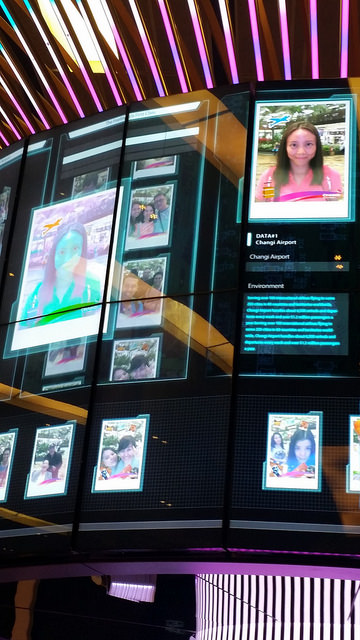 Hai, im in ur airport. *cat smile*
Recharge
After hours of using the airport's WiFi, my smartphone was low on juice. While last year on a short layover thru Changi I was unable to charge my gadgets, this year I was pleasantly surprised to find power outlets at all the rest areas.
While Singapore's normal sockets aren't compatible with the two-prong plugs we use in the Philippines, I was able to charge my phone using the USB port. (I had unfortunately left my universal adapter inside my checked luggage.)
By then I was also quite tired from spending the whole day at the airport on my feet, so I wanted to find a quiet corner to snatch some Z's. But first, I got a leg and foot massage from one of these machines: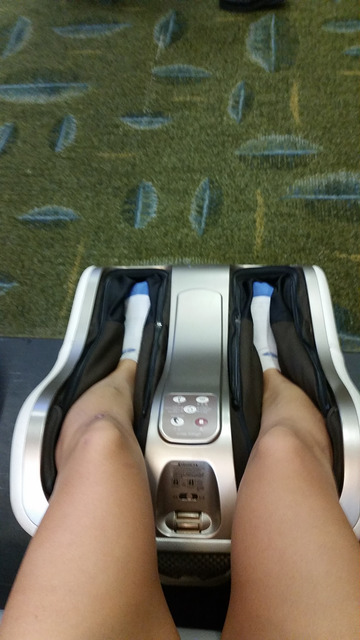 Just keep your socks on for sanitary reasons.
Then I happened upon The Sanctuary at Terminal 2, which is a nice quiet corner where everyone else was trying to sleep.
So after securing all my valuables in my carry-on backpack, I lay down for 30 minutes of shuteye. If you plan on sleeping in the Sanctuary or in any other other rest areas you can find at the other terminals, don't forget to set your alarm so you don't miss your flight!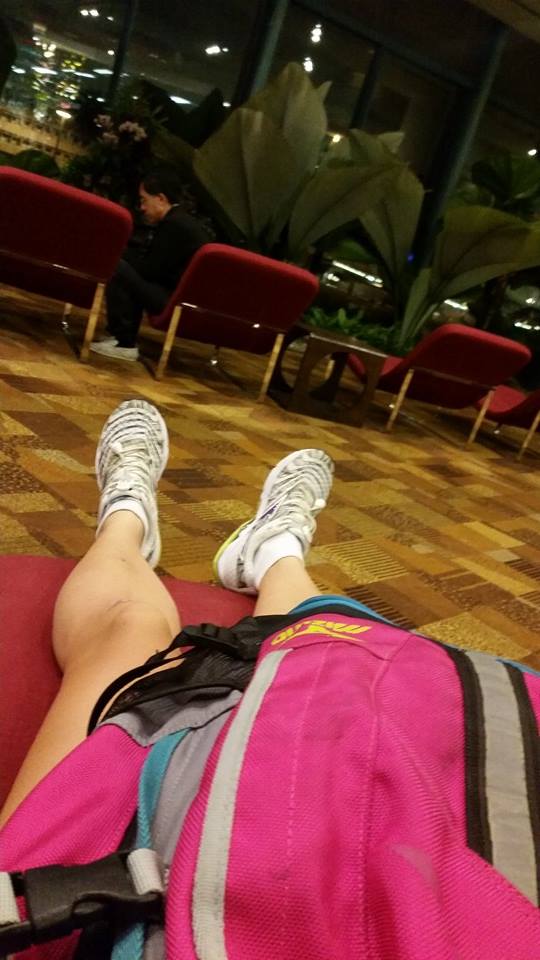 While being stuck indoors for 8 hours is not my preferred way of wasting time, Changi was pretty pleasurable.
Here are other things to do on a layover in Singapore.