I first visited the legendary island of Boracay back in 2007, and by then it was already well-known as a party destination. That first time, though, I was only out-and-about in the daytime and really got to know the island as a place I could just lie on the beach, listen to the waves, and get a nice tan while sipping a fruitshake.
Of course, in the years that followed I got to know the island's wild side. As I matured and wised up, I began to crave what I had first known and loved. But everyone who's been to Boracay lately will say the same thing: unless a major upheaval happens, there is no going back. Big hotels have built right on the beach, and Boracay's main road is congested with multicabs, tricycles, and service vehicles. It definitely feels like Manila sometimes, especially in the summer when everyone from the city heads there.
But maybe I could reclaim parts of the old Boracay, if I tried hard enough?I found out on my last visit in March 2015 when I accompanied my balikbayan cousin, her son, and her brother.
They were back in the Philippines on vacation and were headed to Boracay to attend a wedding. I had plenty of free time after resigning from my group fitness instructor job and taking on a writing and marketing gig that allowed me to work anywhere I had an internet connection. What better way to spend some time together than to join them in Boracay?
Cebu Pacific via Kalibo was the cheapest way to fly to Boracay, and these days they also have a transfer service (in coordination with Southwest Tours) that will get you from the airport to your hotel on the island for a minimal fee. You can take this if you don't mind waiting around for other people, and it's especially convenient for the 90-minute bus ride from Kalibo to Caticlan. All the different fees at Caticlan Jetty Port are also already paid for, so all you have to do is wait for your transfers.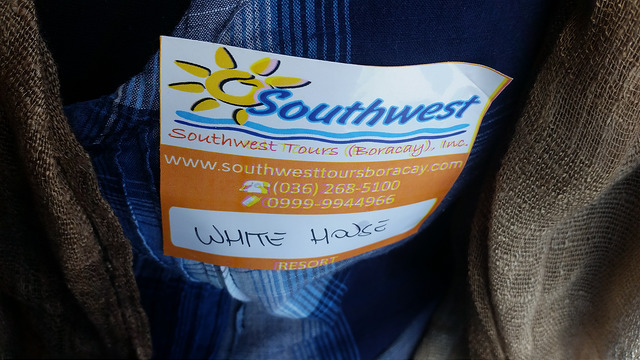 It was an uneventful flight and a couple of transfers later, I was at the White House Boracay on the stretch of the White Beach known as Station One. Here the beach is less crowded and the shoreline is much further away from the tree line. The sand here is also much finer. This is where I would usually walk to set down my beach towel, so finally to be staying at a hotel right there was paradise.
White House Boracay is kind of an institution on the island, but it's also kept moving with the times. I loved the renovation of their beachfront. Guests have prime pick of the many lounges right on the sand, or the booths on the wooden deck.
It was a godsend, because anywhere else I set up on the beach I inevitably came across someone trying to hawk watersports and merchandise.
I don't think I ever felt the urge to go anywhere else except if I wanted to eat at my favorite Boracay restaurants. And so I took the family to Smoke, one of the establishments at D'Mall that served yummy sizzling plate fare.
Some former colleagues were also coincidentally in Boracay and staying at White House, so it was good to have their company while my cousins attended the wedding. I make it a point to visit Real Coffee every single time I'm on the island to have some excellent coffee and their famous calamansi cakes.
This was my first visit to Real Coffee's new, larger location but I was pleased to see it hadn't lost its rustic charm. They even brought the old kubo (hut) and installed it inside the second-floor space!
Aria is also another favorite restaurant, and I was sad to see its Manila branch close down. So of course I had to have their excellent mushroom risotto (and a glass of wine). One of my old friends who runs a boutique hotel (Island Nook Boracay) on the island dropped by to chat with me during my solo dinner, and it was great to catch up and reminisce on old times.
And of course, let's not forget what I really came here for. The beach. That beautiful powdery sand, calm waters even children can swim in, the shade of coconut trees whenever the sun got too intense in the day.
I was quite impressed at the cleanup of Boracay's beach. A few years ago I would turn up cigarette butts, plastic wrappers, and bottle caps when I kicked the sand, but this time the sand was almost pristine. Of course, being so close to summer there were algal growths in the water close to shore but that's not necessarily a bad thing. Most of the sand is actually made of dried algae, which is why it doesn't get hot underfoot even under the noonday sun. (What people should really be worried about is erosion of the shoreline due to offshore construction elsewhere that altered the currents, and sewage being pumped directly into the sea on Bulabog Beach on the other side of the island.)
I will admit that returning to Boracay after visiting larger beach islands where it isn't as crowded made my once-favorite island look very small, congested, and disorganized. But Boracay holds such fond memories for me and I can still find echoes of those when I go visit. I just have to look in the right places (and visit at the right time of year). There are little places on the island, time-warp pockets, where I can still find "the good old days".