Phuket has been a frequent destination for me the past few years, but not really as a vacation destination. The first time I set foot on the "pearl of the Andaman Sea" I was there for a triathlon, and the next few times were work-related because the people who outsource writing jobs to me are expats based there.
After the initial novelty of traveling for sport wore off, I was determined to see more of the island than I had previously.
Phuket has a sizeable expat community, which bumps the cost of living up to tourist-trap levels. The pace of development of its forests and beaches also threatens to wreck the tropical paradise most of the European retirees moved here for.
But the island's total land mass is just 40 square miles smaller than that of Metro Manila, which means there's plenty to see beyond the bounds of my usual haunts in the Laguna and Thalang area. Granted, I still ended up where most tourists go, but that's because it's where I wanted to go, not because I didn't have a choice. 🙂 I also happened to go during their "off-season", so hotel and car rental rates were lower and the beaches weren't teeming with people.
Getting Around
Phuket is well-known for taxi drivers who refuse to use their meters and instead insist on fixed pricing. Tuk-tuks (their version of tricycles) aren't much better and gouge tourists as well. There isn't any other reliable public transport like Bangkok's trains. Thankfully I have a friend who has lived in Phuket for over a decade and she recommended a trusted driver for hire. I've since then always arranged my rides with Louie whenever I'm on the island.
The other alternative is renting a car. If you have multiple destinations, want freedom of movement and schedule, and are traveling with company, car hire is the best. As an ASEAN citizen, my Philippine driver's license is valid in Thailand for 60 days thanks to this 1985 agreement among the ASEAN countries that allow holders of the licences issued in any one of the ASEAN countries to drive. Just make sure to get travel insurance as well to cover the cost of rental vehicle insurance excess (i.e. participation fee if you damage the car) — World Nomads covers me up to USD $2,000.
Of course, driving on the left side of the road with everything on the console flipped from where I'm used to them being caused a few incidents of turning on the wipers when I meant to use the turn signals. But after three driving sessions I found myself adjusted quite quickly and could even perform complex parking maneuvers with ease. (Pro tip: ask for a car with automatic transmission!)
Big Buddha
My first big driving adventure was to get to the Big Buddha and Chalong Temple in the south of Phuket. I used a combination of Waze, offline Google Maps, and good old-fashioned "follow the big signs" to get there.
I was staying in Thalang (a sub-district in Phuket), so to get to Chalong I needed to drive down the major highway and weave past some road construction. Once there, I drove past the temple and started following the signs to the hilltop location for the Big Buddha.
The thing about roads in Phuket: they don't wind up mountainsides as much as they go over them. Instead of switchbacks, they build roads that go up around a 14% gradient. With my car's engine roaring, I finally made it up.
If you aren't dressed appropriately with clothing that covers your shoulders and goes past your knees, you can borrow scarves and sarongs from this little hut. The Big Buddha is a religious site foremost, not just a tourist-y destination, so even if you aren't Buddhist or religious, you need to be respectful.
It's a massive site with several stops on the way up. There's a view deck on the first level with a pretty good view of Phuket Town down below.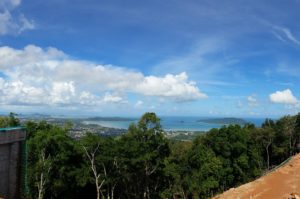 There's a shrine where you can make donations for the continuing construction of the Big Buddha, and at the shops when you buy souvenirs the proceeds also go toward construction.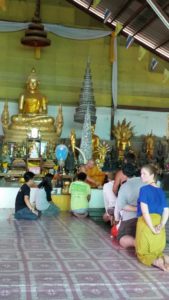 If you keep going up the stairways, you'll finally get to the top level, where you'll be greeted by a smaller brass Buddha and tree.
The Big Buddha sits atop a temple at its base. It's been under construction since 2004 and while the structure itself is already finished, much still needs to be done. Funded entirely by contributions from the devout and the tourists, work proceeds slowly.
Around the outside of the temple are a collection of other Buddha statues, one for every day of the week as well as different depictions of the Buddha. Coming from the Philippines where we're used to seeing fat Buddhas from the Chinese tradition, it was nice to see this skinny Buddha from central Asia and Indochina.
For a donation, you can get a set of wishing bells to hang either on the trees or around the temple base. You can also donate for a slab of marble tile to be used as wall overlays. People usually write their names and messages on them. It made me think of the love locks left on the bridges in Europe, mementos of people's wishes and dreams.
The Big Buddha itself was amazing, needing wide-angle lenses to get it all in one shot (or you'd need to stand quite close to the view deck ledge with it some distance behind). An ambitious art piece that holds religious and cultural significance for Phuket, I would definitely bring other first-time visitors back here.
Wat Chalong (Chalong Temple)
From the Big Buddha, I drove back down the mountainside back into town. Wat Chalong, or Chalong Temple, is located just along the main highway. You won't miss it with its gigantic ornate gateway.
There's a big parking space inside, bordered by several different temples. Wat Chalong isn't so much a temple as it is a temple complex where I'm sure major feast days are commemorated by the surrounding community. It's the largest of Phuket's many temples and is the most visited by tourists foreign and local alike.
I didn't have a lot of daylight left that afternoon especially since I still planned to go to Promthep Cape, so I made a beeline for the main temple, the largest and tallest of the structures with a tower I wanted to peer out from!
Setting foot inside a temple is easy enough; it's open to the public. All you need to do when entering is to take your shoes off. According to Thai custom, the feet are physically and spiritually the lowest part of the body, and shoes are considered even dirtier. It's also considered rude to point or gesture with your feet.
I don't know why I didn't take a panoramic photo of the view from the very top of the tower. Maybe it was because I was so taken by the devotion displayed by these women praying and sliding their baht notes into this walled-off chamber.
I guess I appreciate being in a part of the world where people still believe in the Divine.
Laem Prom Thep (Prom Thep Cape)
I still had a long way to drive to reach my final destination of the afternoon: Promthep Cape, which is the southernmost tip of Phuket Island. The long southbound highway makes a rightward bend and then you need to drive even further on, but again you can't miss the big signs.
I believe you used to be able to drive through the complex (my Google Maps kept trying to make me drive past a gate), but it's strictly pedestrian-only which is great because you can take photos without worrying about being run over.
It was a great day to be outdoors: not too warm, with a slight breeze and some cloud cover but still enough sun to bring out the brilliant colors of the orange earth on the cliffs in contrast with the emerald of the sea below.
There is a small island visible from the cape, Kaew Yai Island. The Buddha is said to have visited Koh Kaew Yai and left his footprint on it before moving to the mainland.
If the day is clear enough (and with Phuket's low air pollution, it nearly always is), you can spy the Big Buddha on a mountaintop past the big steel windmills.
Sunsets at Laem Prom Thep are said to be spectacular with a 360-degree view of the sun sinking below the horizon, lighting up the sky in red, gold, and purple. I had to miss out because I didn't want to make the solo drive back to Thalang in the dark on unfamiliar roads. Maybe next time, I'll stay for it.