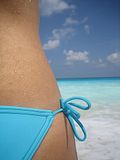 Like I told Ade, I'm not emo. I do have my fair share of angst, but I'm sure it's partly caused by not being able to fit into a bikini. I've gotten grief for it for every summer I go to the malls and discover that nobody makes affordable two-piece swimsuits for girls with buxom dimensions. Tankinis (two-piece swimsuits with longer tops) are even more unflattering for my body type as they draw attention to the salbabida (lovehandles) area peeking out from between the top and bottom parts of the suit.
This summer, as I set my sights on Boracay, I resolved to find a bikini that would defy all my previous experience: it would actually fit and flatter my body. Hey, I have seen a pregnant lady (four or five months along) at Subic wearing a bikini and looking quite attractive in it, so no one can say it can't be done.
The first thing I learned on my quest is never to go to the department stores. The lighting is harsh, the mirrors tell lies, and the bikinis–though cheap–do not fit too well. At least, they don't fit the vital stats 35-29-36, causing all sorts of parts to move around and spill out. Also, they chafe and I don't need to tell you how uncomfortable that is. Dare I even mention having to dig wedgies out? It's enough to make you start bawling inside the changing room.
The second thing I learned is never to try bikinis on right before that time of the month. Pre-menstrual syndrome is a pain, and for some it causes water retention and bloating. Since I'm not going swimming when "surfing the crimson tide," I don't think it's necessary to find out if I can shoehorn myself into a suit while feeling like a beached whale.
The last and most important thing I learned is never to settle. "Okay na yan" should not be in one's vocabulary when bikini shopping. A woman should know her own body; if she feels something doesn't fit right, she shouldn't waste her money on something about which she second-guessed herself. This is particularly important when buying clothing that shows large patches of skin: she must be confident that she looks good wearing it, or else it's Manang time and she'll have bought the bikini for nothing. (They don't even make for good underwear, you know.)
My quest ended happily early this evening when I stopped by the Tomato exhibit at Cybermall in Eastwood City, Libis. The store's offering various gorgeous bikinis within the P300 to P400 price range: cheap, and they fit, too, if one finds the right style. Tomato's only going to be there until April 30, so I'm planning to scoop up another bikini before then. This time around, I'll have my vast (ahem, ahem) field of experience about buying bikinis to guide me.