These days, dancing is a major part of my life, and in the absence of any assignments from LAC, it is my life. But how far back do we go, dancing and I?

My first formal training in dance came one summer at the Halili-Cruz School of Ballet in Quezon City. I was five years old and my mom enrolled me in ballet classes to rid me of my pigeon toes and general lack of body awareness. She succeeded on the first count, but I continued to be awkward and gangly through my teens. (Maybe if I'd been able to continue with ballet, I might still be able to touch my feet to the top of my head — that was my favorite floor exercise in ballet school.) Due to finances, I didn't continue with ballet.
I always participated in school dance numbers, but I felt like I was too old to get better at dance even though I desperately wanted to. Still, watching tapes of Flashdance and Footloose inspired me to go leaping through our bungalow back in Paranaque doing pirouettes and grand jetes. (It's also why I have a weak left ankle because I sprained it on a bad landing.)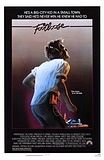 Interesting how similar their poster art is.
When I entered college, people were raving about the Street Dance and Social Dance P.E. classes, which were notoriously hard to get enrolled in due to lack of slots. I never got into the Street Dance classes, but one summer I took up Social Dance and learned four dance styles — cha-cha, waltz, tango, and swing. Unfortunately for me, my partner didn't know how to lead so I never learned how to follow. It was I who would remember the choreography and walk us through it.
P.E. was only required for four semesters in college, so I got increasingly less physical activity and ate more and more junk food. By the time I was in my last year something had to be done about my weight. My mom discovered that Music One was selling MTV The Grind Workouts, so she snapped up a copy of the first of the series, and we bought the next three as well. I simply followed along, dancing along with (not-really-a-dancer) host Eric Nies through oldskool hip-hop, Latin-flavored cardio, and whatever else the screen presented. Yes, laugh all you want if you thought the choreography wasn't all that, but having actual choreography to dance was preferable to endless squats in a Buns of Steel video. It didn't feel like work. And at least it was more up-to-date than ballroom dancing!
Then, of course, I saw Honey on video. I absolutely loved the movie, even though critics and dance aficionados hated it. It reminded me of Flashdance, of my old yearning to dance better. Opportunities presented themselves slowly, but I took them — from attending freestyle hip-hop, BodyJam, and Nike Rockstar classes, to competing, to training with the Stylettos, who helped me sharpen my technique and showed me even more how to dance with emotion and soul.
I'm glad I get to teach BodyJam classes every day, and I'm working hard to get better. I may not have the technique of someone who's been dancing since Day 1, but I think I've got the heart of one.
Tags: Dance