Hey everyone! I have some great news. In the coming week I'll be on another writing assignment with Living Asia Channel that will take me to the beautiful province of Quezon. I'll see some old churches, new infrastructure, have a go at some eco-tourism, and best of all sample their specialty dishes!
I'm sure I'll have some fantastic stories to tell afterwards. I'm really excited since it's my first trip out with them in six months! See you later.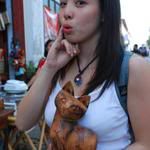 I'm up to something big!