My friend Jace has recently added wakeboarding to his list of favorite things to do, so for his birthday he drove a bunch of us out to Lago de Oro Beach Resort in Calatagan, Batangas to try it out. Jace has been there a few times already, and on that day he wanted to conquer the "kicker" — one of several ramps on the course.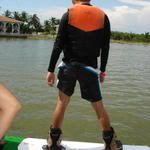 Jace waiting for a towline
I thought it'd be at a beach, in the water among the waves. When I got there, though, I found out it was a converted fish pond. The way wakeboarding works, with its pulleys and winches and structures, you really can't set it up in the ocean with the waves and currents.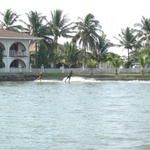 experienced wakeboarders
While Jace was practicing for conquering the kicker in the afternoon, it was all the rest of us could do to hang on for dear life on our kneeboards. We each strapped ourselves kneeling onto special beginner boards, then held on to a towline and allowed ourselves to be dragged around the course. I did pretty well, doing two rounds before I got too tired hanging onto the towline.
So I progressed to the real wakeboard.
Yes, that's actually me wakeboarding. And wiping out.

Well I was only able to feel successful at it once, when I almost rounded the first corner (there are 4 on the course). The pull of the towline is pretty brutal, particularly around the corners as the pulley accelerates. It jerks strongly — so strongly that one of us who was strapped tightly onto her kneeboard got pulled off it.
We were pretty stoked about surviving.
I gave it several good tries (and lots of painful wipe outs) before I called it a day and just started playing with my zips. I'm better at zipping than at wakeboarding — and I hit myself a lot zipping.
zippity do dah, zippity dey…
Some of us were able to progress quite well, so learning to wakeboard is doable for first-timers. Just be prepared to wipe out a lot.
We spent the whole day there, and left after the sun went down.
sunset at Lago de Oro
Wakeboarding at Lago de Oro is priced at 900 pesos for a half-day, and 1,500 pesos for a whole day. It was a fun experience, once I got past the fear of being pulled along by a rope. Surfing is way gentler.