Every time I head to Boracay, it's always different. The first time, summer had just begun. The second time, summer was about to end. The third time, it was the New Year. The fourth time, it was midsummer. And the fifth time, it was one of the biggest party weekends on the calendar: All Saints' Weekend.
Our friends Francis and Trondz had just opened a boutique hotel near D*Mall on the island's main road. Island Nook has beautiful white walls and floors, large glass windows from which you could look out onto the island's interior, and super comfy beds.
We five girls were able to fit onto two queen-size beds during our four-day stay (October 30 to November 2). That was plenty of time to do what we always do on the island — laze around under the sun, loll about on the sand, stroll on the beachfront, swim in the sea, and kayak out to deeper water.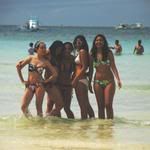 Fun in the sun on our second day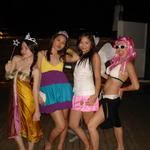 But we were also there to experience the chance to get dressed in crazy costumes, applaud creative ones, and dance all through the night and sleep in all day. I had brought a pink wig just because, and eventually we decided I was dressed as a contestant to Miss Gay Philippines (LOL!). Other less wild costume ideas were the tiaras the other girls had brought.
Two of them had matching wands, which were stolen by Francis and Trondz.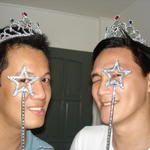 I know I said I wouldn't post this… or did I?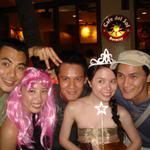 This was only the second time that Francis, Trondz, Joel, Marielle and I had been reunited on Boracay. The first time was during our first trip to Boracay, when Trondz had introduced himself to us on the beach, and then invited his two friends over. I can't believe it's only been three years — it feels like much longer than that!
Lots of things have changed since then: Trondz now has a steady girlfriend (he had just gone through a major break-up when we first met him), Joel, my sister, and I now attend the same church (he was a bad boy back then! haha), and Francis has now taken up residence in Boracay most of the year to help grow their hotel and laundry business (he used to be firmly a Manila boy).
My favorite part of the night was chasing down a group of people dressed as Cruella DeVil and the 101 Dalmatians, getting a photo taken with them, and then realizing I was dressed in their color scheme.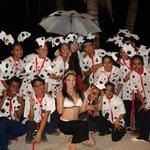 I'm the 102nd dalmatian.
Every night during our stay in Boracay it would rain, and on the 31st of October it rained so much that I was glad I was wearing a bikini (anything else would have been a disaster!).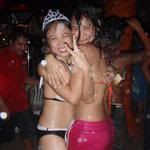 Rain shower. Literally.
It was definitely a night of fun, laughter, and good memories (some of which we'll have to keep to ourselves for fear of embarrassment!). At some point, we made a pact to keep coming back to the island paradise on the same weekend every year.
I hope we get to keep that pact.