Even though I'm a certifiable (yes, certifiable) beach bunny, I know there's so much more to do and discover. There are mountains to be climbed, trails to be biked, waves to be surfed and oceans to swim… I just haven't been able to get off my butt and do these things. But a girl can always dream, right?
(Photo from R.O.X. website)
I found myself at R.O.X. (Recreational Outdoor eXchange) at Bonifacio High Street three times this week. First it was under the pretense of looking at bikinis; I had the mistaken notion I should rock a Roxy or a Billabong next time I went surfing. (I ended up buying a hot pink bikini at Pink Belter.) While I was there, I got sucked into the bike section where I drooled over a Giant mountain bicycle designed for women that was small enough for me and had sexy paint details. This, despite the fact I do not bike up mountains and don't even know how to shift smoothly between bike gears.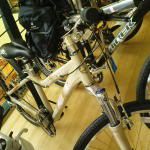 I liked the bike so much I took photos.
The second time, I was looking at rash guards and found a nice local brand, Fluidsurf, selling both rash guards and board shorts. But while I was browsing the aisles I found myself getting excited over fanny packs and wash bags, of all things.
(Photo from R.O.X. website)
I found myself lost in a daydream about hiking and needing a fanny pack at my hip so I could have freedom of movement, and using a wash bag to contain all my toiletries as I roughed it in the wild. Then I realized the wash bag couldn't hold my makeup kit.
Well, today I gave in to one of my R.O.X. fantasies and got myself a Fluidsurf rash guard. Before I hied off to the checkout counter, I caught myself casting a longing gaze at the DC skate gear in the corner.
I'm in retail therapy trouble, aren't I?