I've been hot under the collar to race again and see if I could beat my 10km time at the Globe run. I thought I could do that at the Kenny's Open 2009 Urbanite Run on August 15.


Based on this poster alone I would have signed up.
I got sales-talked into it by Rovilson. He told me (and I have the Facebook comment to prove it), "It's going to be a night run (starts at 9PM, no wind) so I expect a lot of personal times to be beaten."
Well, that was before we saw the race route. It would wind through the old Fort Bonifacio almost down to C-5, then back up the way we came. Then we would detour through McKinley Hill (past Heritage Park cemetery) and a quick run-by the Manila American cemetery before heading back to where we started.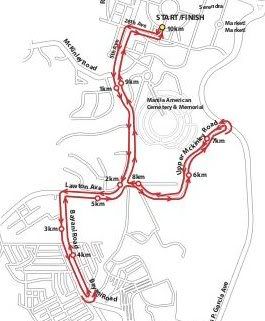 what the hill?! (pun intended)
I arrived at 7pm fresh (or tired) from a shoot at Splash Island with the Weekend Warriors. After a quick-change in the car I met up with some friends from church who were also going to run the 10K event at 8:45pm.


Guess which ones were our bandits?
Official race results were released today (enter my bib number 1605 to view all my results) and despite me not beating my personal best, I'm still largely pleased with how I did.

The Timex clock at the finish line told me I crossed it at 54 minutes 25 seconds after the gun. It's weird that the official time is off by five seconds. It's still better than my treadmill time (54:31) before the Globe run, though.

Probably due to the lack of depth in the field (only 887 finishers in the 10K event), I finished in 32nd place. At the Globe run I finished in 60th place. My gender and division results were poor though; I finished two places lower.




It was really a tough run: the time of night, the route, and the humidity and temperature wilted all the runners. I ran strong during the first two sections of the race, but by the last one, my will was starting to fail me as it was literally an uphill battle.

I tried to overtake a guy who had glowsticks poking up like antennae out of a headband. Then I tried simply to keep pace with him. But at the last two kilometers, he put on a burst of speed and just vanished. I was fading, and I had to pray aloud for God to give me what I needed to finish strong.
As I made the last turn toward the finish line, I saw the clock tick from 53 minutes into 54. Suddenly I felt a surge of defiance within me. No way was I going to let that clock tick into 55 minutes. I started sprinting.


harder, better, faster, stronger
My feet crossed the mat, I came to a sudden stop to avoid crashing into the woman logging the finishers' numbers, and I was gasping for breath from the burst of effort. A few minutes later, Rovilson came in from his 15K run, and we bumped fists before he went off to host the awarding ceremony with his best bud Marc. I stayed near the finish chute to welcome my fellow runner friends, and then we went back to the finish line to take some photos.


my Supergirl pose. all I need is a cape billowing behind me…
I reverse my original statement that I like running alone. Sure I may leave behind the group I came with as I try to beat my personal best — but being around when they celebrate their own personal victories is a better feeling than the runner's high.
UPDATE: Thanks to Sam the Running Ninja for giving me the link to my Photovendo photos from the race. See the change in my expression from the start to the end of the race: