With apologies to the men who are following this blog, I'm writing another mega-post for fashion and beauty this month. There were just too many kikay developments for me not to notice. Ü
Bootie Luv
If you're following me on Tumblr, you might have seen me reblogging posts from fashion tumblr ShoeLust, or posting photos of shoes I want to have from Virtual Mae. I was under the impression that stylish gladiator pumps and booties could only be bought from online stores and boutiques like People Are People or Janylin.
Then I dropped by SM Department Store the other day.
I could not believe my eyes. Ankle-high booties with the correct chunkiness of heel! Studded heels! Etcetera! All that I had been dreaming of and drooling about were right there in-store. The best part was the most expensive pair were priced at P1,299. Not bad at all!
Of course, two weeks ago I told Dhon of Runway2Reality that I'd already made my last shoe purchase of the year. I'm still trying to resist the retail urge! Maybe I'll reward myself with some awesome shoes in 2010.
DIY Event Make-up
I've always done my own make-up when I go out, but seeing other women have perfectly finished faces made me go research how to apply make-up for clubbing. There's a different color palette for smoky gunmetal eyes, and I wanted to get the blending right for them.
The make-up palette from Ever Bilena I bought a few months back is good for everyday use, but it tends to wash out when camera flashes are involved. So I picked up some e.l.f. eyeshadows (P129.75 each) because the colors are intense and don't wear off easily even with my oily skin (bane of make-up artists). I got the Drama shades for gunmetal club eyes, and Butternut for when I want to achieve an old Hollywood bombshell look.
I've been using brown pencil liners to define my brows lately, reserving the black liner for rimming my eyes. Ever Bilena Color Pencils are cheap (P88), rich, don't run, and won't smear if set with powder. The white eyeliner in the photo is from Nichido; Tyra Banks and other celebrities tout its use on lower eyelid rims as a way to make eyes appear bigger.
For the SLIMS Retrospective, I picked up a copy of Cosmopolitan Magazine and copied a look from one of its pages.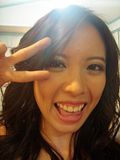 After applying Clinique Superfit foundation (Rose Beige) with a foundation brush and patting it smooth with a make-up sponge, I used an Elianto cream concealer (Medium shade) to cover up dark circles. Then I applied the nude color from the Butternut palette all over my eyelid up to the brow. I swiped the lightest shade onto my brow bone as highlight, then used the two darkest colors to contour my lid and give it a deep-set look. Since it wasn't dark enough not to wash out when I took test photos, I took my Drama palette and lightly brushed some black shadow to finish off the contour.
After filling in and extending my eyebrows with brown pencil, I went all around my eye with my black liner. I applied a line of white pencil beneath the black liner on my waterline, which lit up my eye area and finished the look. Blush powder from Nichido (Cool Rum and Passionate Red) and lip color from Clinique (Color Surge in Extreme Pink) added some warmth to the lower half of my face. I later attached very long false eyelashes from e.l.f. (not in photo).
I felt really confident about how I looked, and as the evening progressed, the make-up did not wear off or migrate. In the photos, the make-up was just right, not too heavy or too light. Success!