Last Thursday, I woke up with light crease lines on my forehead. I was surprised — and horrified. I always moisturize after every bath, but maybe that wasn't enough. So, it was a good thing on that same day Clinique held their press launch for their newest product, Youth Surge.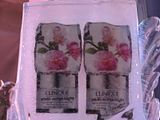 Freezing and Turning Back Time
There are so many competing anti-aging products on the market, increasingly targeted toward women of all ages who want to keep the signs of time at bay. Clinique Youth Surge does this by working at the cellular level. It helps cells replicate themselves exactly and repairs cell damage, which causes the signs of aging like wrinkles, dark spots, and sagging.
Youth Surge is offered in two versions: the day cream has SPF 15 to protect skin against incidental sun exposure, which is a main cause of skin aging. The night cream is fortified with vitamins and more moisture because skin tends to dry out more at night.
Clinique's marketing department gave us a sample of the night cream, which gave me a chance to try it out. I may be young(-ish), but prevention is always better than cure. I've been using the night cream for a week now, and the crease lines on my forehead have disppeared. Whew! Additionally, my skin's texture feels more even, and it always looks in the pink of health when I wake up in the mornings, rather than ashy like it used to look.
This small pot of moisturizer is brimming with a very rich cream; a little goes a long way, which makes me happy because I won't have to run out and buy moisturizer any time soon. But when I do, I'll make it Youth Surge again.
Tags: Clinique Youth Surge, Skin Care, Moisturizer