Last Wednesday, I found myself at one of Makati's night spots, lit up with flashing lights, drinking cocktails, and listening to awesome house music.
There's nothing too odd about that, except it was 2 in the afternoon, there was no alcohol in the cocktail, and we weren't there to party, but to learn about Clinique's latest anti-aging serum.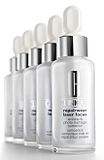 Clinique Repairwear Laser Focus
I have dermatologist friends who use lasers in procedures to lighten birthmarks and spots on the skin, even out acne pockmarks, and reduce the depth of wrinkles. This happens because the lasers lightly "wound" the skin at the cellular level, jumpstarting the healing process and thus producing more youthful-looking skin. Clinique Repairwear Laser Focus seeks to produce similar effects without the commitment and cost of laser procedures.
The serum's threefold action of jumpstarting repair with antioxidants, boosting collagen with peptides, and strengthening skin with enzymes enhances the skin's natural repair ability. Clinique promises visible results in 12 weeks: softening of lines, wrinkles, and sun damage.
Tita Jane, Tita Noemi, and Liz were also present at the event, and even as I joked that I needed the serum soon (being in my late 20's and frequently engaging in outdoor sports isn't doing my skin any favors), I was glad that there was such a product already on the market. Who knows, maybe in 5 years I'll snap this up off the counter. It certainly beats being on the lighted end of a laser wand.