The last time I used my passport was in 2008, and it'll expire next year! So I'm really excited that it'll make its last hurrah this weekend when I go to Malaysia for the Nuffnang Asia Pacific Blog Awards.
Aside from hobnobbing with the who's who of the Asia Pacific blogosphere and meeting fellow bloggers from other countries, I'm really excited to travel outside the country again. I've never been to Malaysia.
The NAPBAS will be held at the Putrajaya Marriott Hotel (in a district 25 kilometers away from Kuala Lumpur), but we'll be shuttling in and out of KL for the afterparty on Friday, and a guided tour on Saturday. I've got one free day on Sunday and since the Petronas Towers aren't on the tour's itinerary, hopefully a few of the Filipino bloggers will want to visit it then.
I'm also really looking forward to running Putrajaya's streets and seeing buildings such as the Putra Mosque.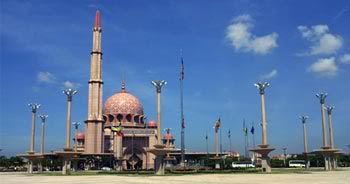 It's pink!