I was supposed to go on a surfing trip to La Union with my girls Jenny, Bianca, and Sheila last weekend. We conceived the idea over Twitter more than a month ago but for some strange reason, none of us ever got around to actually booking a room at any of the resorts over there or making transport arrangements. And so, last Monday, we figured we might as well just do a day trip to Punta Fuego in Batangas, where Jenny is a member.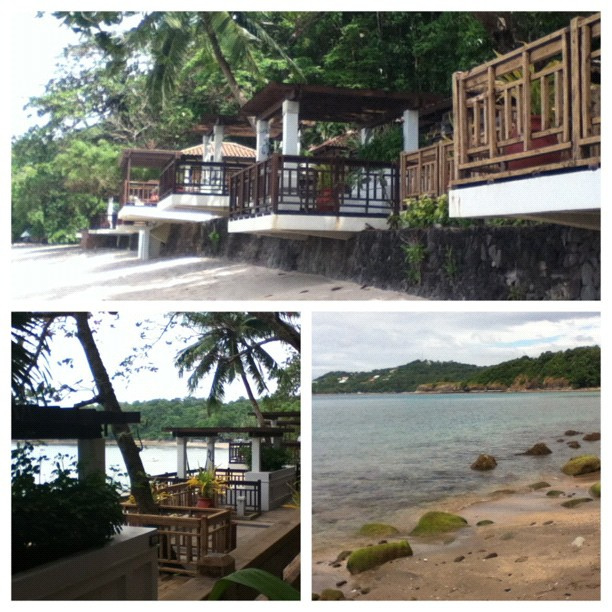 Batangas is about three hours away from Metro Manila, if you're traveling leisurely like we were. There are a number of beach and country clubs in this area. The one I'm more frequently at, Pico de Loro at Hamilo Coast, is about an hour away from Punta Fuego and is a bit too far-flung to be a day trip spot. In this respect, Punta Fuego was a good day getaway because it doesn't take a whole lot of effort to get there.
What did we do there? Well, not the water sports since we don't really like banana boats, and jet ski rentals were overpriced. We just rented a small cabana and the girls snoozed and read the day away. I wandered off to the infinity pool and did a bit of swimming and tanning there.
I would have wanted to swim in the sea, but walking on the sand was off-putting because a lot of rubbish lay around on the sand. The beach isn't protected by a cove that keeps trash from washing up onshore, and there are resorts bordering Punta Fuego that aren't scrupulously careful with waste disposal. Additionally, it was stressful fending off hawkers and vendors who had walked up from the other resorts.
It's sad that in a country that's an archipelago, there are not a lot of quality beaches a short hop away from Metro Manila, unless I go off the beaten path.