Because I took so long to write this next post in the series, I ended up going on a second trip to Germany this year! Let's see if I can keep things straight while trying to write about the previous visit to Munich, though.
I arrived on a train from Regensburg into Munich Main Station (Hauptbahnhof). It is a MASSIVE rail transportation hub with trains coming and going not just from Bavaria, but all over Germany and even to other cities in Europe via international high-speed trains. The main platforms contain the regional and international trains, while another subterranean area contains the S-Bahn city trains. A few steps outside the door and you'll find the U-Bahn (tram) and bus lines.
Munich Main Station also has a massive area for various services, like photobooths, postal service, food court and fast food restaurants, and lockers and left luggage. (More on those lockers and left luggage services later.)
In comparison to my leisurely tourist days in Roth and Regensburg, I only came through Munich for one full day and two half days in transit from one place to another. My first night in Munich, I went to dinner with the TriClark boys, who had just come down from touring Stuttgart and were making a stop before heading out to Eastern Europe the next day. We decided to meet up at the Augustinerkeller, an enormous biergarten and events place that was within walking distance from both our hotels.
One of the oldest surviving breweries in Munich, Augustiner was established in 1328 by Augustinian monks. Ownership of the brewery then passed into state hands before being bought by the Wagner family. They only use water from their private well to brew the beer, which is probably a trade secrets to being Munich's best beer. I think I had a liter total, sampling not just the Weissbier but also the Dunkel variety. Of course, I downed all that with German fare composed of sausages, potatoes, pork knuckles, and… I actually can't quite remember, but it was all very good and we went home hearts and bellies full.
The next day I spent on a day trip to Salzburg, which I will write about next and will combine insights from the tour group trip I went on last year as well as this year's self-guided day trip.
After I got home from Salzburg I bought a sandwich from a bakery then picked up a Ritter Sport and some sparkling wine for a picnic dinner at my hotel room. I had almost a whole day in Munich the next day before my flight out of the airport late that night.
Common check-out time for most hotels in Germany seems to be 11am, but I was determined to make the most of my last day in Munich, and my only day to attempt to explore it. I had pre-booked on a hop-on hop-off bus tour of the city. I planned to check out after breakfast, stow my bags at the train station, explore the city then come back for the bags and depart straight to the airport from the train station.
I had done a lot of research on locker storage before the trip, and the train station website said that it would cost 3 Euro for a small locker, and 4 Euro for a large locker. They also have oversized lockers for things like skis and snowboards. For even bigger baggage, there's a left luggage office where they will secure stuff like bike boxes; if you plan to leave your bags for longer than three days that's the place to go.
Well, I turned up at the lockers and the ones that would fit my suitcase and backpack cost 6 Euro per day. The locker only takes 50 cent, 1 Euro, and 2 Euro coins, so make sure to have change on you. The instructions for using the locker are pretty straightforward and bilingual in German and English, so I didn't have to figure anything out.
From the train station I had a leisurely walk through underpasses to Karstadt department store, which was the take-off point for the hop-on hop-off buses. Because of my limited time, I had only booked the Express Tour which would make five stops throughout the city at notable landmarks that I might want to explore. I planned to sit through the tour once through, then get off at stops that piqued my interest. The tour included free earphones to plug into the bus audio system, which piped commentary in several languages.
A few of the stops were for museums, and the next bus would not be due for another hour. I decided to get off at the Marienplatz stop so I could explore the Old Town Hall, the New Town Hall, and the famous Glockenspiel.
While a glockenspiel is a musical instrument, the Glockenspiel at the New Town Hall is a spectacle and part of the clocktower. At 11am (and 12pm and 5pm in the summer), animated mannequins re-enact two stories from Munich's history set to tinkling bells which play different tunes every day.
The best place to watch this up-close is not on the ground in the square, but up in the Cafe Glockenspiel which overlooks it. Or if you'd like to do this for free, go to the third or fourth floor of the Hugendubel bookstore.
Since it was lunchtime, I decided to order some weisswurst, a pretzel, and a Hofbrauhaus beer. The weisswurst is a traditional Bavarian sausage made from veal and pork back bacon. I just didn't realize they would serve it like this: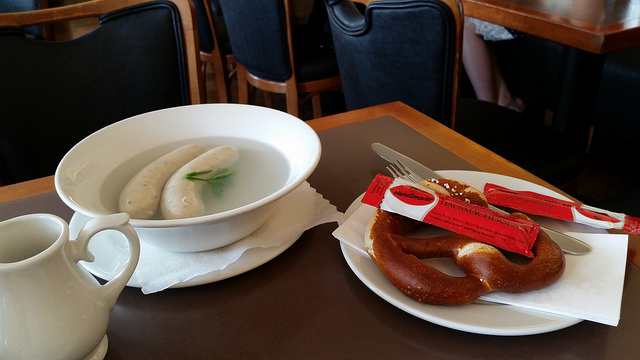 Being the clueless tourist I am, I cut crosswise through one sausage and started eating the whole thing dipped in hausmachersenf, which is a sweet Bavarian mustard. One of the waiters stood by for a while, and then could stand it no longer. He approached my table, cut the other sausage lengthwise, then showed me how to peel off the casing.
I was torn between feeling thankful he'd shown me the way, and feeling abashed at my ignorance, haha!
While I was seated at the cafe I found a flyer in my pocket for Sandeman's New Munich free walking tours. I don't know if I picked it up from the hop-on hop-off bus, but it was serendipity. A tour would set out from the Mariensaule at 2pm and it promised to be an informative and entertaining one. Best of all, there was no fixed charge; you would tip the guides what the tour meant to you.
Our tour guide was the Munich native Katy, which was awesome because she had authentic insight and knowledge into what made the city tick. Over the next three hours she would regale us with tales from the city's history at different spots as we walked. I'm not one for history's dry bones, but Katy breathed life into them.
Munich's role as the spiritual capital of the Nazi movement was not forgotten; during the walking tour Katy told us about Hitler's failed coup attempt (the beer hall putsch), Kristallnacht when Jews were arrested and massacred throughout the city, and the numerous buildings that had been erected which have now been repurposed after the de-Nazification of Germany. Sandeman's also offers a tour of the Dachau concentration camp, which a few of those in the party were contemplating on doing.
Katy told us that there was a lesson to be learned in how a dictator and tyrant sprang up from a democracy. The people had willingly voted Hitler and his party into power because they believed the Nazis could make Germany great again, despite their incendiary and anti-Semitic rhetoric. The memorials set up all throughout the country are poignant reminders of a path the German people do not want to re-tread.
(Who would have thought, a year later, the Philippines would be on the brink of burying a dictator in a heroes' resting ground because of our lack of cultural memory? If only we learned from Germany's example.)
I had a lot to think about on my way back to the train station. I caught the hop-on hop-off bus at the Marienplatz stop and got off at Karstadt. After retrieving my bags, I bought a one-way ticket to Munich airport via the S-Bahn metropolitan trains.
After a long day of sightseeing I felt quite sticky. With a long flight ahead I wanted to freshen up, so I shelled out the 15 Euro (plus 20 Euro key deposit fee) to use one of the shower cabins at Munich airport. It has running hot water, toiletries, and towel and is large enough to accommodate an opened suitcase. While bathing I charged some of my gadgets at the sockets, and when I was done I was even able to blow-dry my hair so I would look presentable before boarding my flight.
It was a luxury that was well worth it.
It had been a wonderful yet long sojourn through several of Bavaria's key cities, as well as the town of Roth I had come to know and love. While I had thoroughly enjoyed myself, I was also glad to be heading home. Little did I know I would be in Bavaria again this year!