I haven't been shopping in, like, forever, so last weekend I decided to make a trip down to Megamall to take a look at the new Fashion Hall wing's offerings. I almost went home without even setting foot inside the mall because of the horrendous traffic and parking situation there, but thankfully I found a spot in the Fashion Hall's basement parking.
Because I was there to shop more for clothes for dance and yoga, I turned up some great finds from Forever 21 (one of my favorite stores to browse around in), Old Navy, and the newly-opened H&M.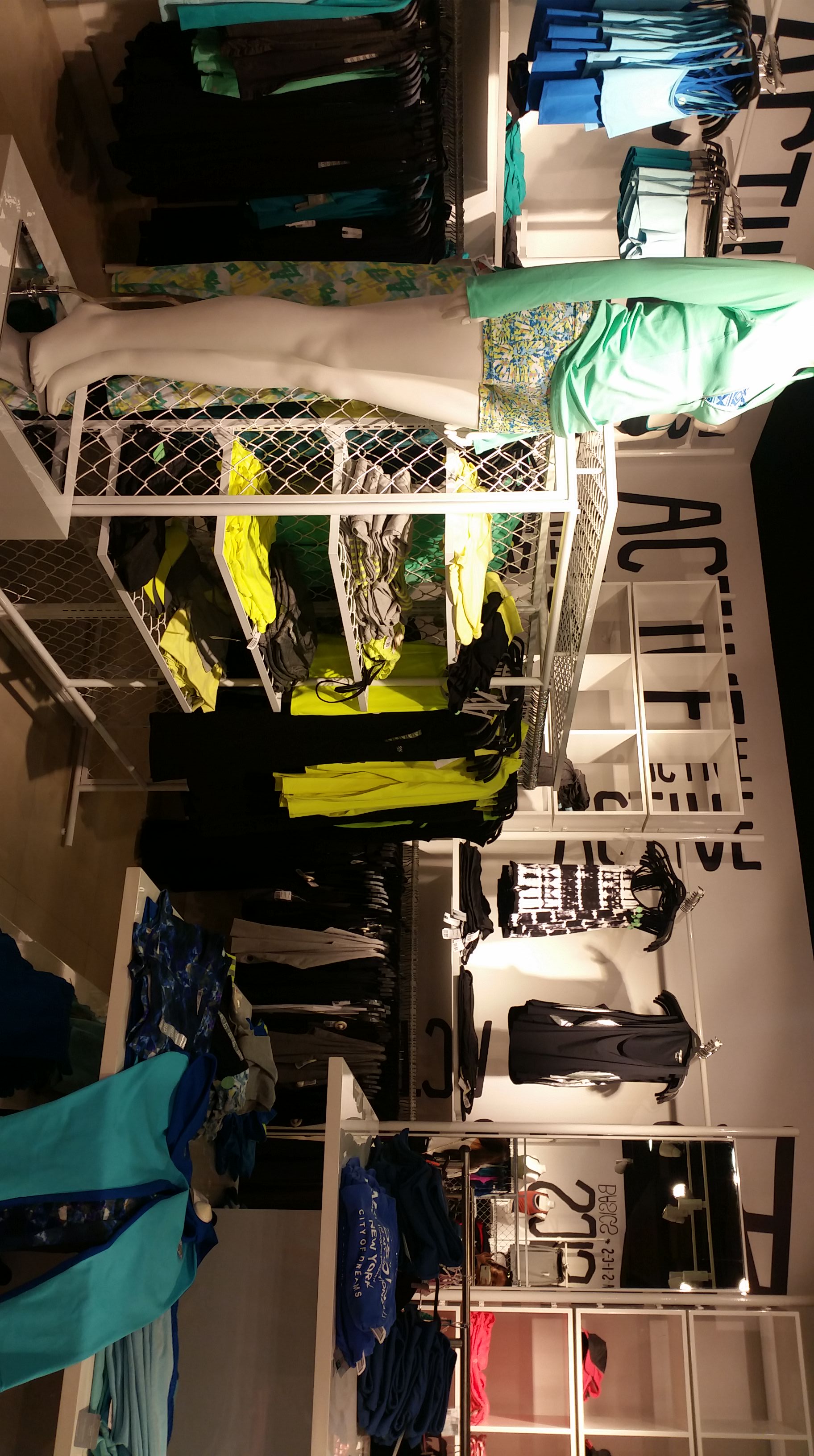 Forever 21's activewear section
But once I was done with that, I trawled the other shops around. Window-shopping is lovely and I can't wait for when these brands go on sale at some point. Because I. Am. So There.
H&M only opened a month or two months ago and the hype around it was so huge that I actually avoided going in there because I didn't want to fight for elbow space with the hundreds of other shoppers also in there. Last weekend, I couldn't believe that even with three floors of retail space, there were still long lines for fitting rooms and cashiers. I found the women's section a bit… grey.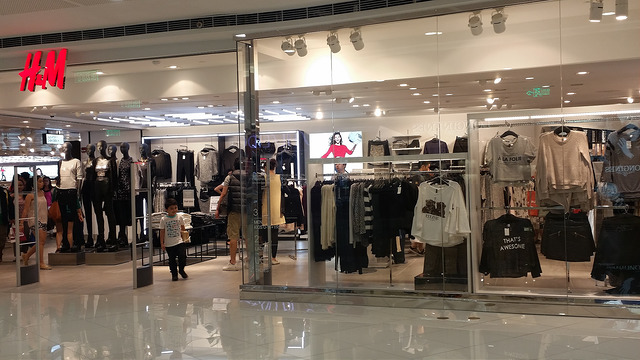 Maybe because it's autumn/winter?
One of the shops I really liked being in was American Eagle Outfitters. Despite the fact that I could probably find some of their surplus items in the Surplus Shop in Megamall's A wing, the store is quite hip. On that day, there was even a DJ (I later found out it was DJ Jujiin). Even better, he was actually playing music I knew — and I don't listen to pop radio anymore, so that can be quite a challenge! But it was nice to browse inside AEO listening to "Rather Be" and then heading out the door singing along to "Call Your Girlfriend".
I tumbled across the expansive Fashion Hall atrium to Pull & Bear, which is a really large store that also has an entrance from the main mall.
I loved the selection of clothing for both men and women, but even more than that I was impressed with the way items were displayed. For instance, footwear: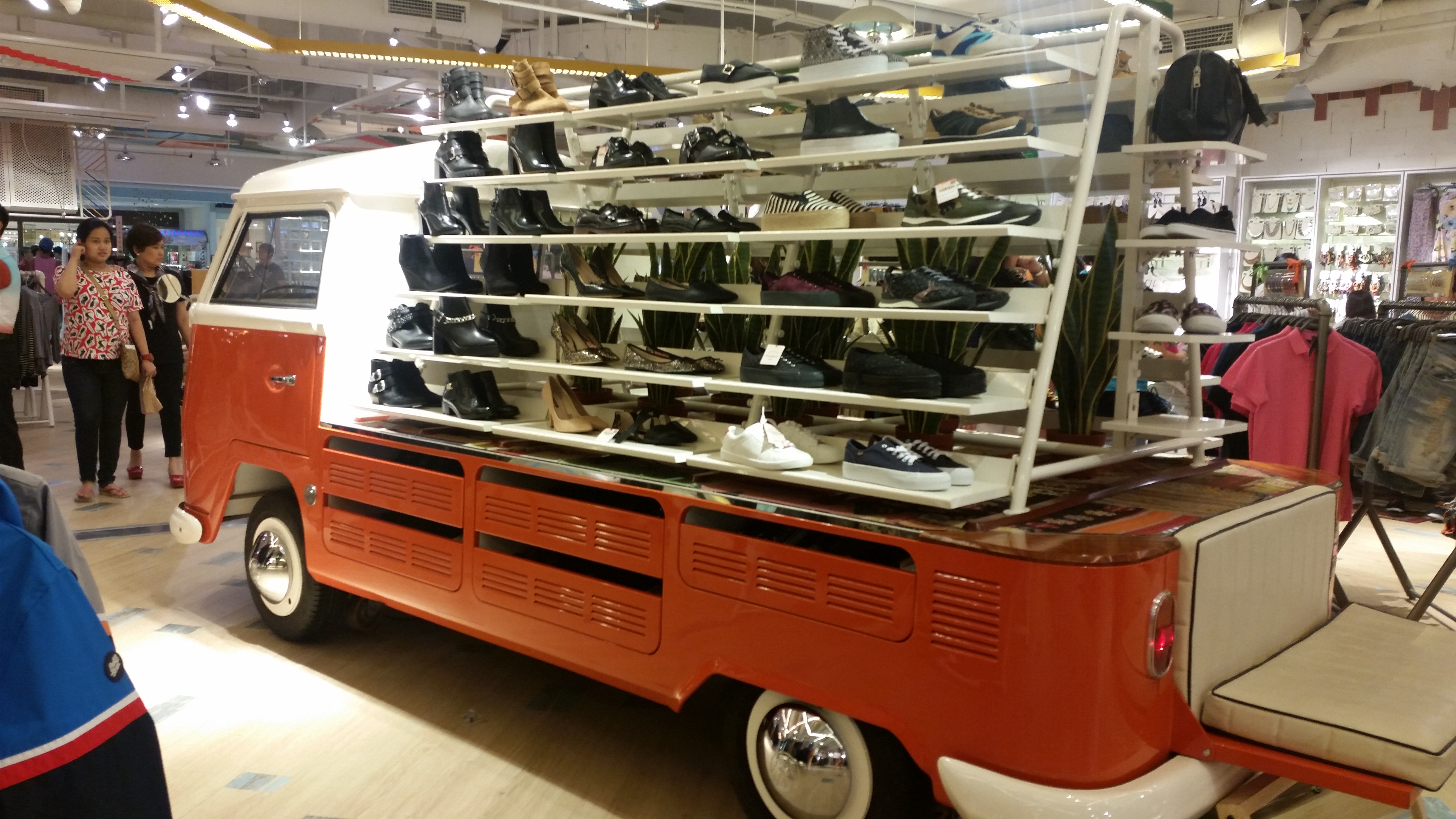 I feel a very strong pull towards this…
stuff for him and her
The pricing I feel is a bit higher than at AEO and the strange thing is they were carrying a lot of heavy quilted jackets, thick sweaters, and the like. Unless you live in a freezer in the Philippines (or maybe work in an office with the AC turned up way high), those are impractical for our mild cool season.
I shop on a budget and I probably won't be getting basic stuff like plain tank tops from these stores. But there are some really great pieces that can make your chosen outfit pop — or at least give you a peg to hunt for at thrift stores, bazaars, and local brands.
Oh dear, I think I awoke my inner shopaholic again…