Because of that cool hi-tech Champion chip we all tied into our shoelaces during the Globe-AyalaLand Run for Home event, I now have race analysis and info of how I did during the race. Ü
(If you want to see the page for yourself, check out RunPix at Globe-AyalaLand Run for Home, enter bib number 4405, and click on the 10K button.)
I initially wrote that I finished at a time of 52 minute and 2 seconds, but that's the approximate amount of time from starting gun until I reached the finish line. I had a lag of 30+ seconds getting to the starting line though, since I placed myself behind the elite runners. That's why my net time registers at 51 minutes and 31 seconds. I know, it surprised me, too.
The next two graphs were even more astonishing.

So, if I were just running a race against other women, these would be the gross results. I'm going to chalk it up to my innate competitiveness: every time I saw a woman running ahead of me, I'd put on some speed to overtake her.
But there was one tidbit of info that I had a good laugh at: I'd outpaced 94% of the male runners. There were more men than women in the entire field, but it gave me a weird sense of satisfaction seeing this graph: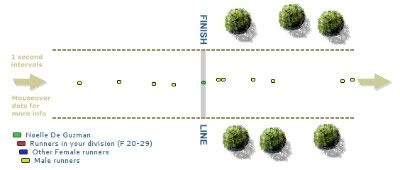 It's Running Men! Hallelujah!
After the 5K mark, I overtook 7 people, though 6 people who were behind me before the split raced past me.
In my previous post I thought I was putting on speed at the end of the race; however, my result shows that I ran my fastest during the first 5K, and slowed down by 1 km/h during the second half. This is what's called a "positive split" in runner's terminology. (Thanks to Takbo.ph, I'm learning a lot about this new sport I've picked up.)
I think I did pretty well in the speed department, though.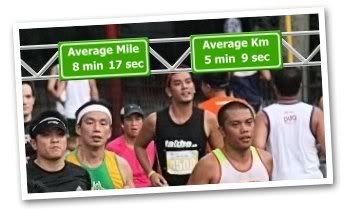 Overall, it was a wonderful race and I didn't think I had it in me to do as well as I did. I really think it was by the grace of God I didn't cramp and was able to fight off temptations to slow down to a walk, since that was my usual modus operandi in my training sessions on the treadmill.
I signed up for the Kenny's Open '09 Urbanite Run (10K). I'd like to see whether I can beat this time, or whether it was just a fluke. Will I see you there? Ü
Tags: Globe Run for Home, Running