The Urbanite was the first time my friend Joel saw the shoes I've been using since last October. He's a recreational triathlete and was using the Urbanite as a tune-up to the Cobra Ironman 70.3.
Joel asked me with incredulity, "Are you sure those shoes are for running? They look too low!" My reply was, "Well, they have 'nikerunning.com' on the sole!"
I bought these shoes late last year on sale from Sports Warehouse in preparation for the Run for Life race I didn't run. While they had served me well in my running on treadmills, they weren't taking too kindly to being out on the road in races. I looked them up online at Nike and they're track-spike-inspired and mostly used by gym bunnies (hehehe). They finally gave up the ghost after my Urbanite experience.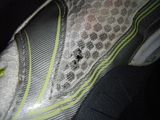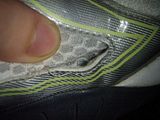 "she falls apart by herself," sings Sugar Ray
Today after signing up for the 5K event at GMA7's "Tatakbo Ka Ba" run, I headed to Bonifacio High Street in Fort Bonifacio to buy a new pair of shoes at RUNNR. "Now to get myself a real running shoe," I thought.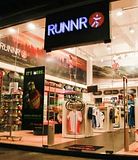 RUNNR is owned by the son of the business mind behind Toby's Sports (check out the August issue of Action&Fitness; for the story), but carries products specifically for running enthusiasts. Being a specialty store, they carry top-of-the-line and latest products from Nike, Adidas, New Balance, Asics, and other running brands. I wasn't expecting to find the same kind of bargain there as I did at Sports Warehouse. However, I was looking for help in finding exactly the kind of shoe I need for the kind of running I do, and that's where RUNNR's Footworx service comes in.
The very knowledgeable salesguy (who also does his fair share of running — OMG, ultramarathons) asked me to step barefoot onto a "podoscope" so I could find out whether I had a normal, flat, or high arch. I was flat-footed as a baby and always thought I had a low arch, so I was surprised to find my arch was normal. (Oh the wonders barefoot walking can work.) Then he asked me to run barefoot on a treadmill. He took high-speed video of the way I ran, and analyzed how my feet struck the ground. Although I knew it already, he confirmed that my right ankle was weak, causing me to overpronate on the right foot. I told him that I was fine with my current shoe except that my ankles complained after the races.
Based on my results, he recommended I try a neutral to light stability shoe, like the Nike Air Span + 6. "My feet are in better shape than I thought," I mused at this point. And after another video analysis where we confirmed that my ankle-rolling had been controlled by the shoe, I ended up taking a pair home.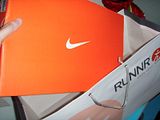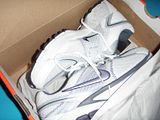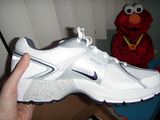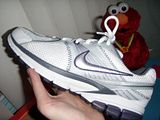 Elmo approves of this purchase.
Char, one of the girls I ran with at Urbanite, had been to RUNNR about a month ago and found she needed a stability shoe for one foot, and a motion-control shoe for the other. She ended up spending approximately 6,000 pesos for stability shoes and an additional 2,000 pesos for custom shoe inserts. Yoinks! I had come into the store with a budget of 5,500 pesos but asked God to help me find a shoe around 4,000 pesos. I got the shoe at P4,895.
The best part is that they're Nike (my favorite shoe brand) and they go really well with the racing top I've set aside for the GMA7 run. Ü I'm taking these puppies out for a test run on Monday.
Tags:Running, Nike Shoes, RUNNR