It's turning out to be quite a humid summer, and this month's Action&Fitness; Magazine is steaming it up with actress Erich Gonzales on the cover.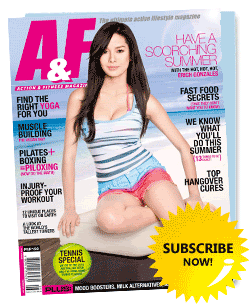 Action&Fitness; March issue
I really enjoyed researching and writing these articles appearing in this month's issue:
Grace and Power through Piloxing (p. 66) A new fitness craze that incorporates the fundamentals of boxing and Pilates
What's Your Yoga Style? (p. 72) We help you identify which yoga type is for you
Thigh High (p. 75) Achieve firm, shapely thighs with these easy-to-follow toning exercises
WORKOUT: Laterally Speaking (p. 76) Bare your midriff this summer!
Tags: Action&Fitness; Magazine, Yoga Styles, Workout, Erich Gonzales